Sacred Lifestyle Magazine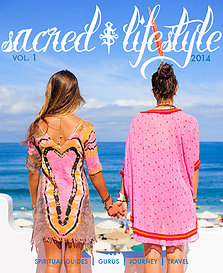 Sacred Lifestyle is a new online community which helps awaken one's spirit, helps enlighten and inspire us while we continue on our journey. They profile Gurus, Spiritual Guides, and Bon Vivants around the world to share their experiences from healing our bodies to enriching the food we consume to personal utopias and sanctuaries + fashion, products and travel. They featured a a bit of our interviews with Julian Lennon, Gotham Chopra, Pamela Anderson to Brigitte Bardot, to Denise Mari from Organic Avenue, etc.
They are also  creating an extension to their Magazine, that will be a market called "The Sacred Lifestyle Market."
The Sacred Lifestyle Market
When: Sunday, August 30, 2015
Where: Ashbridge Estate (1444 Queen Street East)
Time: 12Pm to 6pm
The Market includes Vendors of various parts of Lifestyle - Food, Beauty Products, Fashion, Home etc.  We will also have Yoga Studios including Union, Lotus Girl and 889 Yoga hosting Yoga classes throughout the afternoon.