A NEW FACE FOR DAS MODEL MANAGEMENT IN MIAMI TURNS A SPARK IN TO A SOCIAL MEDIA FIRESTORM THROUGH "THE ART OF BEAUTY"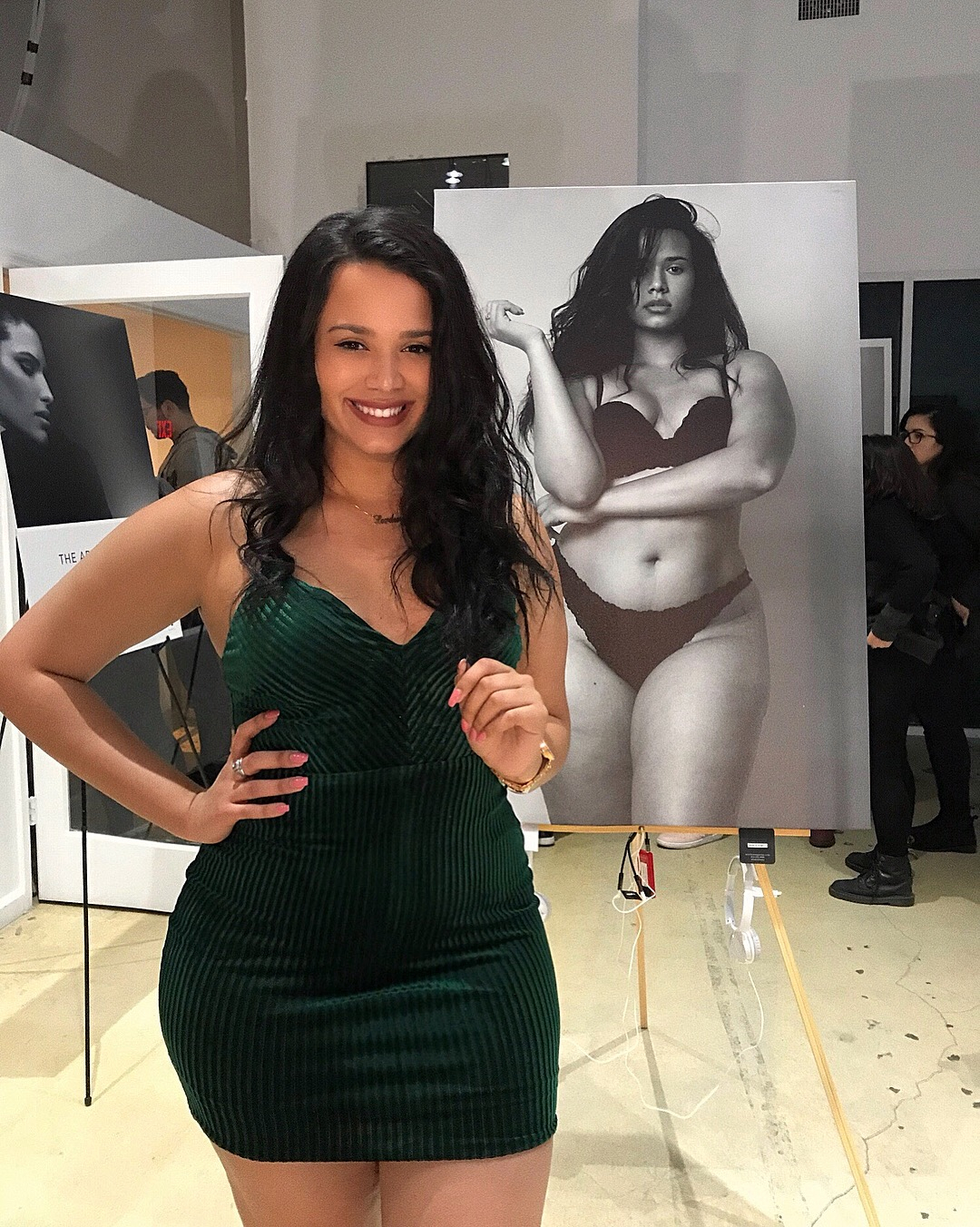 Colombian-born Natalia Lorenzo joins the agency's CURVE division and inspires women everywhere with a rebounding confidence that is shooting for the stars
Miami Beach, FL – December 21st, 2017: The newest home-grown talent from South Florida to join DAS Model Management has become an unassuming role model for women around the country and oversees, attracting global media attention from as far as Australia, while becoming the latest social media sensation thanks to an independent exhibition during Miami Art Week.
The 19-year-old Miami native, Natalia Lorenzo, has quickly grown accustomed to having an image management team and public relations professionals around her, since she decided to rebound from her late teenage years as a timid student at Florida International University, to emerge as an aspiring new model with over 50,000 followers on social media. While studying to become a doctor during high school and college, Natalia's mother, a seamstress by trade, always thought her daughter had a spark for the fashion spotlight. With a wealth of encouragement at home and from her friends, the Colombian-born teenager built enough confidence to submit a series of photos to local modeling agencies in October, while admitting to be extremely self-conscious about her body in the past. The tide of self perception would soon turn for Natalia when DAS Model Management, a full-service international model management agency based in Miami Beach, responded immediately upon seeing her photography and invited her in to their offices. Not knowing where this would lead, Natalia became excited but very nervous to meet a beaming management team who welcomed her with unanticipated delight on the very same day. Natalia's initial experience upon meeting the world-class group of professionals at DAS Model Management gave her a level of comfort and a new surge of confidence that would subsequently establish her career as an emerging model after signing with the CURVE division at the agency.
"We immediately jumped on this opportunity to sign Natalia, as soon as her photos came through," says Jennifer Gregory, Director of Client Services at DAS Model Management and its CURVE division. "Natalia embodies the true essence of natural beauty and she has found a new confidence that goes hand-in-hand with becoming an emerging model at the beginning of her career. Through our combined decades of experience and expertise with guiding and managing very promising new Plus size models, emerging talent has been propelled to new heights – establishing some of the biggest names in the business. With the right management style and personal guidance given with every step of the development process, these women were able to excel on the world stage. We look forward to working with Natalia and unleashing her true potential."
Within two weeks of being signed to the agency, a major national retailer requested Natalia for a booking in New York City where she would spend a day representing one of the largest department stores in the country. Several beauty and fashion brands have since been in contact with DAS, urging Jennifer and her team to field requests for suitable brand partnerships between Natalia and the agency's top clients.
During Miami Art Week in December, Natalia agreed to participate in an independent exhibit produced by a photographer friend, entitled "The Art of Beauty." Natalia attended the exhibit in Miami's Wynwood Arts District on December 10th, after having some revealing photography in underwear taken that would be on display as a five-foot tall poster size canvas. The theme of the exhibition was around women embracing their bodies and individual beauty as an art form – as a way of reinforcing the new social norm. Natalia's's excitement at the positive response from those she met at the exhibit and seeing herself in full splendor came in the form of a personal tweet that was instantly shared more than 47,000 times and liked over 215,000 times to this day.
"At a young age I developed self imagery issues about my body," Natalia tweeted after the exhibit. "It later led to depression and anxiety which I suffered from for years. Recently, I finally broke out of my shell and my face and my body is on a canvas at Art Basel this year. I couldn't be any more proud of myself."
After moving to the United States at the age of 7 years old, Natalia started gaining weight and was very shy, while having difficulty managing her diet that continued for two years. During high school in South Florida, she would avoid wearing a swimsuit and feel anxious when going to the beach – hiding in the bathroom or covering herself with a t-shirt. Natalia reveals how she often did not want to leave her bedroom. By the time Natalia turned 18, she finally had enough and refused to let a perception of her body hold her back from enjoying life. Natalia discovered the joy in social media and taking photos of herself, which helped her view her body in a completely different light, after opening up and sharing her experiences on Instagram to a loving audience.
"I decided to not let the way I look or my insecurities hold me back in life anymore," says Natalia. "I had missed out on so many good times simply because of my self-perception. I have finally overcome my fears. My goal now is to be an inspiration to other people who have the same issues and be a role model for men and women everywhere while enjoying my new self and outlook on life. Signing with DAS Model Management has been a thrilling turning point in my life and has become a major stepping-stone towards fulfilling my ultimate goal in becoming the best I can possibly be. I hope to change the lives and minds of others throughout the world."
Natalia plans to use her new career with DAS Model Management as a platform for spreading the belief in personal self-expression, body positivity and individual beauty in every shape and form – particularly through her work as an emerging model while receiving the personal guidance by the best in the business. Natalia's biggest role model continues to be her Mom, who is most proud of her daughter and looks back on a time when she felt compelled to push Natalia in the right direction.