10th World Sleep Day - How Can New Technologies Improve Your Sleep?
Today we celebrate the 10th annual World Sleep Day. It is organized by the World Sleep Society, founded by the World Association of Sleep Medicine (WASM) and the World Sleep Federation (WSF), an international association whose mission is to advance sleep health worldwide.
Frost & Sullivan has been researching how digital health applications can improve our sleep experience. Nowadays, consumers are able to utilize everyday devices as a way to gain a valuable perspective about a critical aspect of their health – the quality of their sleep.  There are numerous applications, wearables and devices that can create an ecosystem that produces and analyzes vital information that can be used by professionals to help an individual.  As consumers create a technology-based ecosystem around their sleep experience, all the patient-generated datagathered will contribute to larger studies that will support sleep science. This will lead to breakthroughs that will help our society to resolve sleep disorders and improve health and wellness globally.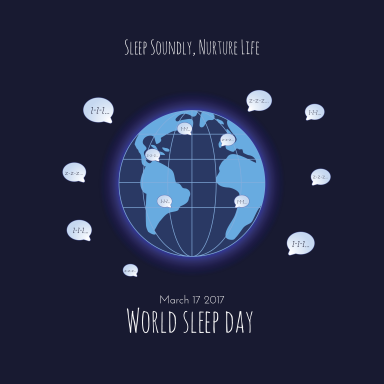 Transformational Health Principal Analyst Victor Camlek explains: "This year's World Sleep Day theme is "Sleep Soundly, Nurture Life." The good news as we move forward is that we can now measure the quality of our sleep using connected digital technology in the natural setting of our home.  Whereas in the past patients needed to check-in to specialized facilities to assess their sleep for serious health related issues, today we can determine information about many aspects of our sleep adopting easy to use sensorsand remote monitors."
Artificial Intelligence (AI) is one of the key technologies in the market that can improve our ability to measure sleep by interfacing with other platforms and by leveraging a voice interactive AI system. For example, the Amazon Echo device can become a new partner in our healthcare as it can help to intersect with other aspects of digital health, all within the connected home environment.
"These advances permit us to address the need for serious intervention much sooner and much easier than in the past. Frost & Sullivan actively tracks progress in the sleep technology market, as well as innovative companies who are contributing to the disruption of this digital health segment," concludes Camlek.
About Frost & Sullivan
Frost & Sullivan, the global Growth Partnership Company, has spent more than 50 years guiding our clients toward transformational growth strategies. We focus on innovation opportunities driven by disruptive technologies, mega trends, emerging markets and new business models. Through our Growth Partnership model, we collaborate with clients to leverage visionary innovation that takes advantage of our convergence expertise, an experiential learning platform, 360-degree industry coverage and complete global perspective. Is your organization prepared for the next profound wave of industry disruption, increasing competitive intensity, breakthrough best practices, changing customer dynamics and emerging economies?