150 Best Meals In A Jar - Tanya Linton - Book Review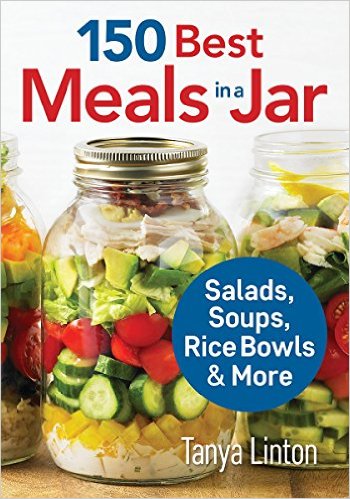 I love mason jars! I have always said that "everything tastes better in a mason jar." And it does! Thats why I was excited to receive this book 150 Best Meals In A Jar. Once you start using mason jars you will see just how easy it is to do meal prep, eat on the go. You can even be as innovative as you want with the recipes. There really are no limits.
The book has a wide variety of delicious meals for breakfast, lunch and dinner. It includes soups, snacks, fruit and vegetable salads, grain and legume salads, pastas, rice bowls, over night oats and even desserts.
My favourites are the over night oats. I always love including that into my own plans as well as my clients. One of my top fav recipes is the chocolate protein smoothie that is on pg 19.
The recipes are easy to follow, have great ingredients that are easily available and most often times you already have in your panty. Tanya Linton also provides great variations of the recipes so you aren't limited to exactly what she has in the originally recipe.
Overall I give this book an 8/10. There arent pictures of each recipe but there are just so many amazing options and variations its a go to book for meal prep. If you are into health and fitness and want amazing healthy recipes this is a go to!
To purchase your own copy head on over to:
https://www.amazon.ca/150-Best-Meals-Jar-Salads/dp/077880528X