150 Best Recipes For Cooking In Foil - Book Review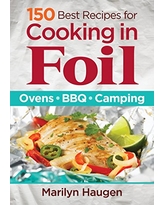 Foil packet meals = cooking at its simple best
I couldn't agree more with the above statement. As you guys know I am a fitness competitor and prepping meals is a huge part of my nutrition when I am on prep. It can be very time consuming. That means I am always looking for quick and simple recipes to get my food ready so I have more time for training. I also want them to taste good. I don't limit my sodium on prep so I flavour everything! And foil packets are so much fun, easy, and help create amazing flavours with your ingredients. They can also be prepared for oven, bbq or even camping!
This book: 150 Best Recipes For Cooking In Foil by Marilyn Haugen has quickly become one of my favourites for preparing meals! The delicious grilling and one recipes offer convenience with minimal cleanup. I hate cleaning so this is tremendously helpful for me. Its also great for the busy person who doesn't have a lot of time. Many of the dishes I ate ahead of time and refrigerate or freeze for reheat later.
I also like that the ingredients that she uses for her recipes are easy to find every day ingredients. You just chop, mix and you are ready to go. I make mine in the oven but you aren't just limited to the oven with these recipes which is particularly useful no matter what your cooking situation is.
I give this book an 8/10 simply because it is in black and white and not every recipe has a photo. However every recipe that I have tried has been amazing! So grateful to have been sent this book!
If you're looking for your own copy check out: https://www.amazon.ca/Foil-Packet-Cooking-Recipes-Grilling-ebook/dp/B01GZB1YDY