4 Ways to Make Getting into a Yoga Workout Habit Easier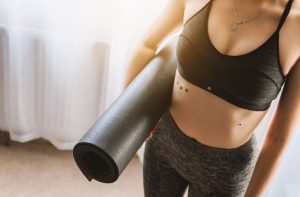 Yoga is one of the most beloved activities around. It's been enchanting people everywhere for a long time. Celebrities often wax poetic about it. Physically fit folks often can't stop raving about it, too. It can do a lot for your mind. It can also do a lot to limber you up and can assist general wellness.
Learn Yoga Background
If you're having a hard time adjusting to a brand new yoga routine, it can help to do a little research beforehand. Research can increase your yoga enthusiasm. Learn about the history of this practice. Learn about all of the perks that are linked to it, too. If you need an incentive to take on yoga, knowledge can be a great one.
Sign up for Yoga Classes
Doing yoga on your own can make you feel like you have an excuse to be lazy. If you sign up and pay for classes, however, you may feel guilty about bailing on them at the last minute. If you want to feel accountable, then you should register for yogaclasses at a nearby studio. If you're set to attend classes two or three times a week, you'll be a lot less likely to thoughtlessly ditch them.
Do Yoga with a Friend
You don't necessarily have to pay for yoga classes. If you want to feel accountable, you can get a yoga buddy. Look for a friend or a family member who is as eager to enhance their mind and body as you are. Schedule meetings to do yoga stretches and poses together. Having a yoga partner can make your workout regimen a lot more enjoyable. Cancelling plans can be extremely rude, too. If you want to avoid being inconsiderate, you have to proceed with your session. This helps you be more accountable.
Concentrate on Wellness
Yoga and a healthy lifestyle are like two peas in a pod. If you want to adjust well to a yoga workout regimen, it can help to think about the big picture. Think about tweaking your eating habits and concentrating on eating healthier and more nutritious foods. Think about enhancing your mind, too. If you adopt a healthy and balanced mindset, it can make keeping up with your yoga workouts a lot simpler. You can work on your mind by doing meditation in conjunction with yoga.
Adjusting to a yoga workout plan can initially be hard. It usually pays off in the end, though. If you want to adapt to a yoga-oriented lifestyle, there are all sorts of simple things you can do.