Turkish Airlines Gives Back; Teams Up with Social Media Celebrities to Fight Famine and Drought in Somalia
ISTANBUL, August 17, 2017 /PRNewswire/ --
Africa's Top International Carrier Ships Second Cargo Plane Full of Food Supplies to Save Lives.
Flying to more countries than any other airline, Turkish Airlines is a leader in terms of international destinations served and Africa's top international carrier with 51 routes in the continent. And now, the award-winning carrier is quickly becoming a leader in giving back to those countries - in some of the challenging places in the world.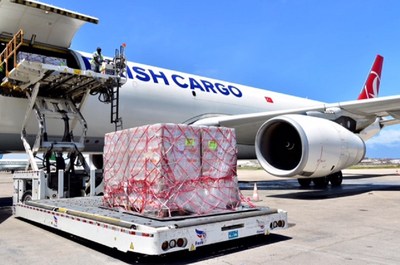 Supporting with the group Love Army for Somalia (spearheaded by social media stars Jerome Jarre, Casey Neistat and actor Ben Stiller), Turkish Airlines is involved in delivering aid to fight famine and drought in Somalia. Hundreds of tons of supplies have been delivered to the people of Somalia since the beginning of the movement in March, 2017.
The airline that connects continents, cultures and peoples is a well-known brand with its corporate responsibility projects throughout Africa. Recent projects realized by Turkish Airlines in 24 African countries include building and renovating schools, orphanages, clinics as well as providing education and drilling water wells. Setting up solar panels for clinics situated out of urban areas and cooperating with local authorities and hospitals to provide medical aid are also among Turkish Airlines' corporate responsibility projects.
As the only international airline that flies to Somalia, Turkish Airlines has a unique access to getting much-needed emergency food support to the country, which is suffering from a devastating drought. Millions of children are at immediate risk of severe malnutrition.
When social media celebrity Jerome Jarre sent a Tweet asking Turkish Airlines directly whether they would send a cargo plane filled with food to Somalia, the company responded quickly - with a resounding yes. That first delivery took place in March, where 60 tons of nutritional supplements designed specifically for kids were sent to Mogadishu for immediate distribution.
Now, they're at it again. Another shipment of food, an additional 60 tons of the nutritional supplements for children, has been delivered to Somalia on Tuesday, August 15th.
Speaking on the occasion, Turkish Airlines Chairman of the Board and Executive Committee Mr. M. İlker Aycı said; "As the first call of help to Somalia echoed in social media, Turkish Airlines immediately took notice. We gladly joined the global movement #LoveArmyForSomalia, contributing a cargo flight as well as food and supplies to the people of Somalia. Now, we are doing it again, this time delivering 60 tons of special food for Somalian children. As we take pride in connecting Africa to the world, we also take pride in our corporate responsibility projects that extend a helping hand to the African people."
Sharing his views on the global movement, the social media star Jerome Jarre said that; "What is fueling this movement are people around the world coming together. We are united by the idea that anything is possible if we work together to make it happen."
Following the supplies arrival in Mogadishu, non-governmental organizations including the ARC have provided logistics and guidance on the ground, ensuring that the lifesaving supplements reach the most at-need children and their families.
As the only international airline flying to Somalia, Turkish Airlines will continue to stand by the people of Somalia in their time of need.