EMILY MALE WANTS YOU TO HAVE YOURSELF
A FOODIE FITTIE CHRISTMAS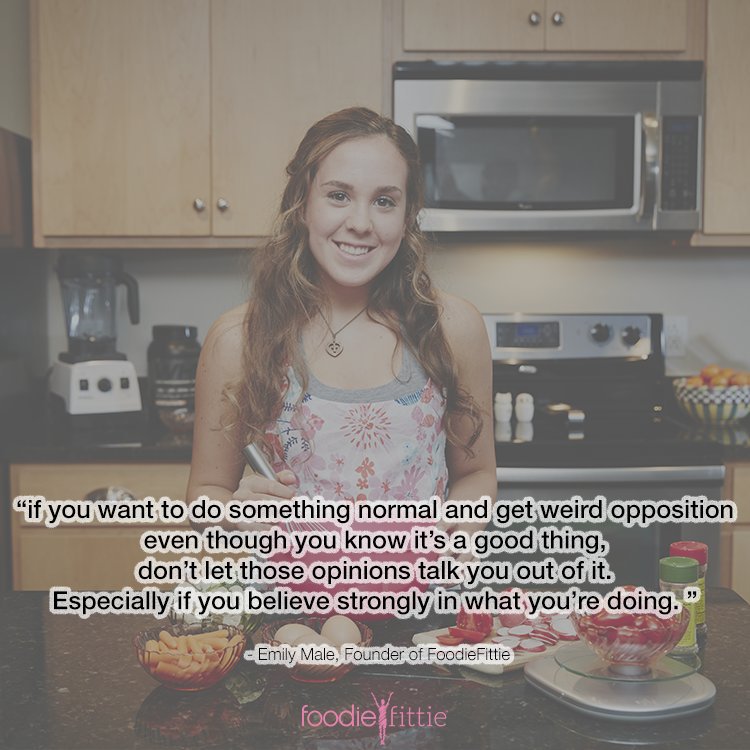 Gearing up to Roll Out Her Exciting New 21 Day Program
That's "A Journey To The Best You," The 16 Year Old
Health and Wellness Authority Offers Insightful Tips
To Deal With Holiday Eating Temptations and Depression 
Emily Male, founder of Foodie Fittie
On a mission to help her fellow teens to overcome their low self-esteem and find a pathway towards good nutrition, fitness, confidence and hope, Emily Male is currently gearing up for the early 2017 rollout of FoodieFittie (www.foodiefittie.com), her extraordinary, multi-faceted new 21 Day program which she designed as a "Journey To The Best You."

But before all the excitement begins with that, the Georgia and Nashvillebased 16 year old health and wellness authority is looking forward to a wonderful holiday season with family and friends. Because of her incredible personal journey - including a dramatic 78 pound weight loss in a single year and a renewed commitment to healthy eating, staying physically fit -  Emily has some great insights and tips on how to eat right, overcome those bad temptations when it comes to overeating and fatty and sugary foods and avoiding depression this holiday season.

Based on her experiences and the knowledge she has gained as she worked on her program, she believes that eating the proper foods while not denying oneself the pleasure of reasonable portions of the cookies, cakes and pies you want can go a long way towards combating the winter blues. She will make her choices this year based on what worked for her during the holidays in 2015.

"Last Christmas," she says, "I made healthier choices, like instead of eating high fat meat, I ate low fat turkey - but I still ate dessert. If I knew I wanted that dessert, during the main meal I would avoid eating mashed potatoes. Even though the temptation is there to gorge yourself because tasty things are hitting your eyes everywhere you look, I think moderation is the key. Still, it's the holidays and if you restrict yourself too much it might be hard on keeping a jolly holiday spirit!"

Emily adds that while she doesn't eat an unlimited amount of goodies anymore, she has given herself some restrictions. "We all have to do what works best for us," she says. "I work hard all year long to maintain a certain weight and stay fit, and I'm not going to NOT eat something during the holidays just because it's got low nutritional value. Holiday time with our friends and family is important, and food is part of those gatherings. I would avoid excessive snacking but allow yourself a small portion of dessert. And keep this in mind: even if on a few days you consume extra calories, your body will know what to do with it. If you eat badly for two days, but then on the third day go back to eating your normal amount and consuming your usual amount of calories, your body will drop the few pounds it may gain."

Emily is currently in training for a body building competition this coming February, so she's watching her sugar and fat intake this holiday season. But make no mistake, she won't deprive herself of a few decadent treats. She also advises that when you know you're going to eat a huge meal later in the day, like on Thanksgiving, it's a good idea to eat normally during the early part of the day. Starving yourself for hours until mealtime is a guaranteed ticket to overstuffing yourself later, which can make you gain weight and get sick.

"When you understand the FoodieFittie lifestyle, you know when to stop indulging and get back to the nutritional program that makes you healthy," she says. "Maybe it would make me happy in the moment to go crazy and eat more than one cupcake or piece of cake after dinner, but afterwards - you guessed it - I would feel bad. But if I allow myself to just have one, I won't feel bad about any of it, physically or psychologically. I always look at the big picture."

One of the days in Emily's FoodieFittie program is devoted to depression, and Emily chronicles the painstaking route she took out of some very dark places inside her. Now that she's on the other side of things, and wakes up every day full of joy and determination to live a better, healthier life, she is happy to offer a few bits of advice to make yourself feel better during the holidays (but if you have diagnosed chemical depression, that is something beyond the scope of her expertise).

"My message is pretty simple even if getting here isn't easy sometimes: love yourself," she says. "There are so many little things you can do during the holidays to combat whatever blues you are feeling. You can give yourself a facial, read a book you love, go for a walk, go to the gym, do yoga, watch a great movie, listen to music, write things you are grateful for in a journal..Any of those things are good. My story is that I say I ran myself out of depression. I learned that molecular biologists and neurologists have begun to show that exercise may alter brain chemistry in much the same way that antidepressant drugs do -- regulating the key neurotransmitters serotonin and norepinephrine. So even if you live in a cold climate and have to do it inside, get moving and you'll experience some surprising results! The one thing you cannot do when you're depressed is sit around the house thinking of how depressed you are. That will start a downward spiral."

Because her oldest brother Ryan has been battling drug addiction for many years, Emily is keenly aware of the toll family tensions can take on the holiday season. Family meals can be uncomfortable for some, but Emily says it's best not to blame yourself for things outside your control and to simply "take relationships with your loved ones one day at a time." She adds: "I might have been sad to see my parents fight or feel like I was losing my brother because of what he was going through, but I got through some hard times simply by doing what I had to do, like going to school, doing chores, working and living life normally in spite of the problems. You have to live your life no matter what troubles are going on."

Happily, Emily is looking forward this holiday season to spending time with her family and her grandparents, who will be visiting from Florida along with her visiting brothers Ryan and Max. "It will be nice having everyone together," she says. "Everyone knows I love to cook, and I'll have the opportunity to make cheesecake and chocolate fudge cake, buffalo cheese dip and a bunch of other things - which I will eat in moderation of course! Cooking is another thing I find very therapeutic and when in doubt, that always makes my spirits bright around the holidays."

Having survived the trauma of being bullied, feeling lost and feeling sluggish and fearful of being mocked because of her extra weight, Emily's FoodieFittie program reflects her longtime desire to let her fellow teens (and others) in on many of the insights she's learned and put into practice that completely transformed her life. With the help of various mentors and fitness, nutrition and self-help experts, she created a detailed step by step process designed to change the lives of her peers.

"For the first time in my life," she says, "I'm on a mission, and that mission is a pathway to hope, a way for teens like me to make a comeback in their lives. I started FoodieFittie to help teen girls struggling with their weight and self-image, to help them feel more confident in who they are. From all of the challenges I have faced, I have learned that if you take control of your dieting habits and are consistent with your fitness activities, you will have great results."