A radiant skin experience all wrapped-up for Mom
For everything Moms do for us, this Mother's Day, treat her to a gift that helps her take more time for herself.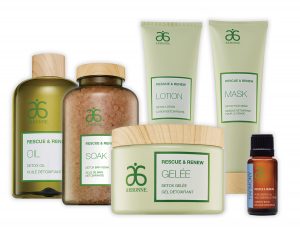 Inspired by ancient Ayurvedic spa practices, Arbonne's Rescue & Renew collection is a holistic approach to wellness that helps detoxify the body by cleansing the skin's surface of impurities, while also protecting the skin's moisture barrier.
" src="cid:image002.jpg@01D3CB4F.0387C240" alt="Arbonne Group Image 1" align="right" hspace="12" v:shapes="Picture_x0020_4" class="Apple-web-attachment Singleton">Vegan, cruelty free, non-GMO formulated and made with botanically-based ingredients, Arbonne's Rescue & Renew collection offers a complete pampering experience with products that help Mom release her stress, soak in goodness and achieve smoother, softer and more radiant skin. Plus, it's safe for all skin types (including sensitive skin), delivering rewarding results for the mind, body and soul:
-          Detox Face Mask ($57): This creamy French pink clay formula cleanses to draw out impurities from the skin's surface resulting in smaller-looking pores, and features 5 self-neutralizing acids to help clarify and brighten skin's appearance.
-          Detox Bath Soak ($49): These quick-dissolving sea salt crystals help remove surface impurities and cleanse the skin, while turmeric root extract helps boost radiance so Mom can emerge from her bath with smoother, softer skin.
-          Detox Oil ($65): This hydrating oil contains grape seed oil to support collagen and skin firmness, plus sesame seed oil that moisturizes to help dimpled skin appear smooth.
-          Detox Lotion ($46): The Anise seed oil in this creamy lotion helps improve the appearance of dull, tired-looking skin, while vitamin B5 helps it look soft and smooth.
-          Detox Gelée ($75): This cooling gel helps to soothe tired muscles, and provides hydration for soft, smooth-looking skin thanks to green algae.
-          Pure Essential Oils ($32 to $38): Arbonne's 100% pure essential oils are sustainably sourced from the seed, peel, stem, root, and flower, all carefully extracted using steam distillation or cold pressing techniques. Available in Lemon, Lavender and Peppermint single notes and Harmony Blend, each oil can be diffused to create an aromatic surrounding, or applied topically to the skin.