Approval of Keytruda in Europe for first-line use with chemotherapy in lung cancer strengthens the use of PD-1 inhibitors as backbone therapy, says GlobalData
Following FDA approval in August, this week (wk comm 10th Sept) the European Commission (EC) also approved Merck Sharp & Dohme (MSD)'s PD-1 blocking antibody, Keytruda (pembrolizumab), for use as a first-line therapy in combination with Eli Lilly's Alimta (pemetrexed) plus platinum chemotherapy, for patients with metastatic non-small cell lung cancer (NSCLC) who have no EGFR or ALK positive mutations.
Keytruda is a recombinant monoclonal antibody that is already approved for a number of cancer types in Europe, including metastatic melanoma, classical Hodgkin lymphoma, urothelial carcinoma, and as a single agent for the treatment of patients with metastatic NSCLC whose tumors have high PD-1 ligand (PD-1L) expression. Keytruda acts by blocking the interaction of PD-1 with its ligand (PD-L1), releasing PD-1 pathway-mediated inhibition of the immune response and thereby activating T-cell immune surveillance of tumor cells.
According to GlobalData's report, 'PharmaFocus: Visual Analysis of Immuno-Oncology Development and Opportunities' , among the checkpoint modulators, antibodies targeting PD-1 and PD-L1 [PD-(L)1] account for more than half of clinical trials and have experienced exponential growth since 2015.
GlobalData expects that this trend will continue in the coming year as PD-(L)1 inhibitors are being explored in new cancers, such as pancreatic cancer, hepatocellular carcinoma, and acute myeloid leukemia. Furthermore, marketed PD-(L)1 inhibitors are moving into earlier lines of treatment and are increasingly explored in combination trials utilizing PD-(L)1 as a backbone therapy for existing or innovative therapeutic strategies.
Dr Edit Kovalcsik, Managing Analyst at GlobalData, commented, "Lung cancer is one of the most common cancers and NSCLC makes up approximately 85% of all lung cancers. Therefore NSCLC covers the most lucrative field in the lung cancer space."
GlobalData's report, 'Non-Small Cell Lung Cancer (NSCLC) - Dynamic Market Forecast to 2025', reveals that approximately 177 thousand cases were diagnosed with NSCLC in 2017 in the five European markets – France, Germany, Italy, Spain and the UK. The report also forecasts that Merck's Keytruda will become the lead therapy in NSCLC with forecasted global sales across the 8MM (US, 5EU, Japan and China) of USD $3bn by 2025.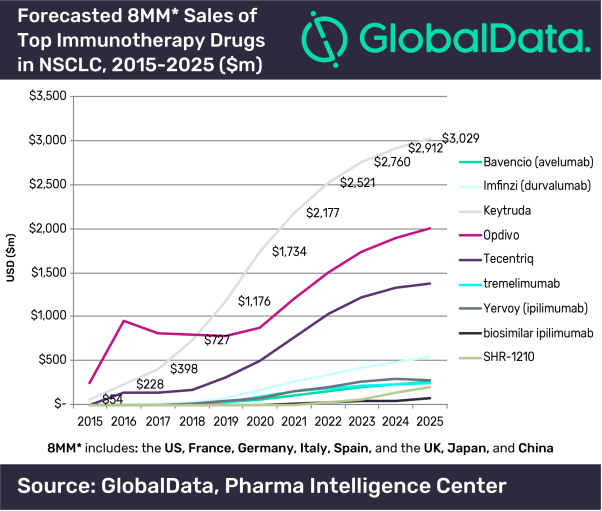 IMAGE FOR PUBLICATION: Please click here for chart: Forecasted 8MM Sales of Top Immunotherapy Drugs in NSCLC, 2015-2025
The EC's decision of approval of Keytruda-chemo cocktail was based on the KEYNOTE-189 trial, in which the combination therapy reduced the risk of death by half, compared with Alimta and chemotherapy (cisplatin or carboplatin) alone. In addition, the Keytruda combination significantly improved the progression-free survival (PFS) compared with Alimta and chemotherapy alone.
Roche's Tecentriq and Bristol-Myers Squibb's Opdivo are direct competitors to Keytruda. Keytruda's approval in the first line setting combined with chemotherapy comes as a blow for Roche as last week the FDA delayed its decision on the use of Tecentriq in combination with Avastin and chemotherapy in the frontline setting for metastatic NSCLC by three months. BMS' Opdivo plus Yervoy combination could also challenge Merck's Keytruda combination in the frontline NSCLC, as the FDA accepted BMS' application in June 2018 to market the immuno-oncology combination, based on the improved PFS demonstrated in the CheckMate-227 trial.
Kovalcsik concluded, ''Approval of Keytruda-chemo combination therapy paves the way for the frontline use of PD-(L)1 combination therapies in the NSCLC space."
GlobalData.com | LinkedIn | Twitter
About GlobalData
4,000 of the world's largest companies, including over 70% of FTSE 100 and 60% of Fortune 100 companies, make more timely and better business decisions thanks to GlobalData's unique data, expert analysis and innovative solutions, all in one platform. GlobalData's mission is to help our clients decode the future to be more successful and innovative across a range of industries, including the healthcare, consumer, retail, financial, technology and professional services sectors. PR2744