I was recently sent some new protein to try. Its Called Bipro. They sent me vanilla, chocolate and unflavoured. I tried them before I entered prep and I was really impressed. The Vanilla is 90 calories, 0g of fat, 1g of carb with 22g protein. The chocolate is 90 calories, 0.5g of fat, 2g of carb with 20g protein. The unflavoured is 80 calories, 0g of fat, 0g of carb with 20g protein.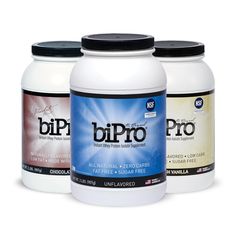 A little bit about the company and my findings:
BiPro whey protein isolate has been available in the U.S. for more than 30 years and is used by elite and major league athletes, coaches and sports nutrition experts. Starting in July 2016, BiPro will finally be available in Canada through Amazon.ca. It will also be sold in specialty stores as of this fall.
High in protein, including branched chain amino acids (BCAAs), to help enhance training and improve endurance
One of the purest WPI products on the market, with a 97% purity level
Made with 100% whey protein isolate, with no other protein sources added
Fast-absorbing and easy to digest
NSF-certified
Naturally gluten-free
Short ingredients list
BiPro will be offered in a 907 g (2 lbs.) jars as well as boxes with 14 individual packets. You have the choice of Unflavoured, Chocolate or French Vanilla.
I was honestly really impressed with the taste and quality. I like that it is high in protein with BCAA in it. It was easy to digest and I believe it that they say its one of the purest whey's on the market with a 97% purity level. Its also naturally gluten free and there are only a few ingredients therefore it clearly isn't packed with fillers or chemicals.