Burnbrae Farms: EGG Creations – Recipes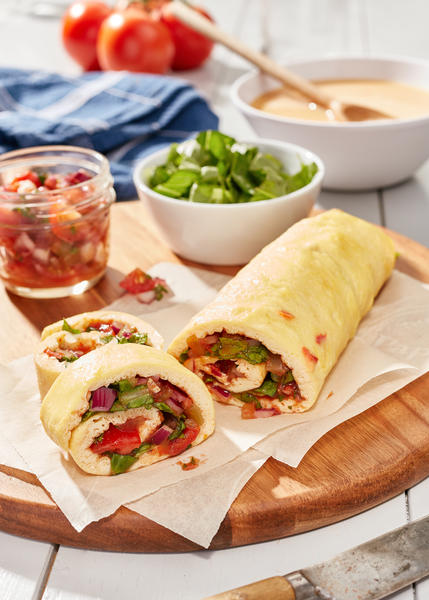 BURRITO OMELETTE
PREP TIME: 10 min.
MAKES: 1 burrito omelette, sliced into six "sushi" pieces
INGREDIENTS:
½ pkg (250g) Egg Creations Whole Eggs Original Veggie & Feta
1 large whole-wheat wrap
¼ cup (60 mL) salsa
¼ cup (60 mL) finely shredded romaine lettuce
1 green onion, finely sliced
DIRECTIONS:
1. Grease a large frying pan with cooking spray and heat over medium-high heat.
2. Pour Egg Creations Whole Eggs Original Veggie & Feta into heated pan. Using a non-stick spatula slightly scramble eggs. Then, leave to set in an even layer and cook completely in the pan, about 2 mins, flip and continue cooking 30 sec.
3. Remove omelette from pan and set on top of a whole-wheat wrap. Spread evenly with salsa, chopped lettuce and green onions. Roll up, burrito style, and slice into 6 equal rounds. Stick a toothpick in each round and serve or pack in lunch boxes.
TIPS:
* You can add burrito toppings of your choice – try adding a few black beans with your salsa or grated carrots and sliced zucchini.
* You can alternatively serve the burrito omelette sliced in half and serve with a side salad for a filling dinner.
* You can easily make this recipe for two people. Just cook two separate omelettes and increase the amount of toppings.