Burnbrae Farms: EGG Creations – Recipes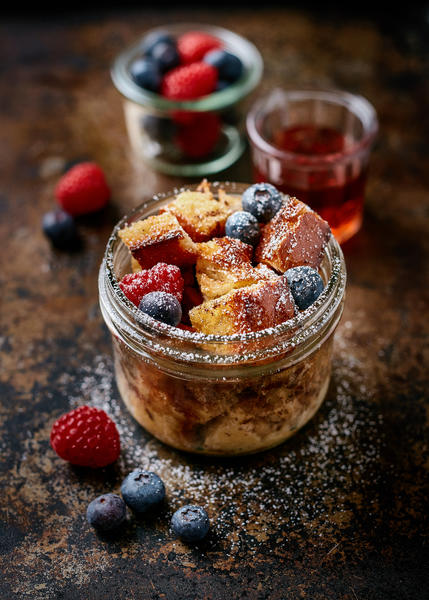 French Toast On-The-Go
PREP TIME: 10 min.
MAKES: 2
INGREDIENTS:
1 cup (250 mL) ½-inch diced day-old bread cubes
½ (250 mL) pkg Egg Creations Whole Eggs Original
2 tbsp (30 mL) milk
½ tsp (2 mL) cinnamon
1 tbsp (15 mL) brown sugar
Maple syrup, sliced fruit and berries, whipped cream, to serve (optional)
DIRECTIONS:
1. Pack ½ cup (125 mL) bread cubes into two, 2-cup (500 mL) mason jars. In a bowl whisk together Egg Creations Whole Eggs Original, milk, cinnamon and brown sugar. Pour mixture evenly between jars. Let soak for 5 min.
2. Place mason jars in microwave on low heat. Microwave for 1 – 2 min., on 30 sec., increments until French toast is cooked and egg has set. Keep a close eye on jars as they might bubble up.
3. Top with maple syrup, sliced fruit, berries and whipped cream (if using). Close jars with lids for a breakfast on-the-go.
TIPS:
* Try using egg bread for a sweeter version of French toast on-the-go.
* Add different spices like a pinch of nutmeg or pumpkin pie spice.
* Let bread soak in French toast mixture overnight and microwave in the morning for breakfast.