Burnbrae Farms: EGG Creations – Recipes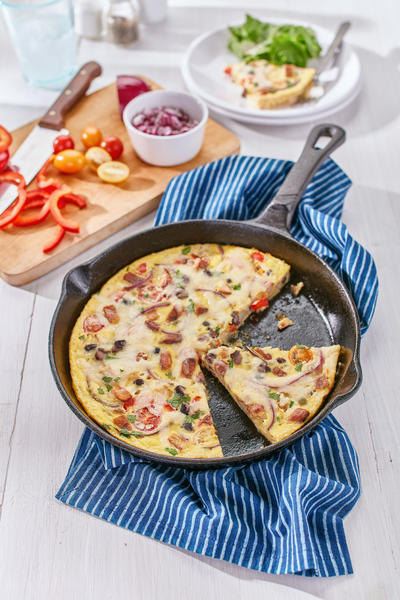 Scrambled Vegetarian Hash Brown Pizza
PREP TIME: 10 min.
MAKES: 1 pizza, 10 slices
INGREDIENTS:
1 pkg (500g) Egg Creations Fat Free Garden Veggie
1 cup (250 mL) cooked diced potatoes (1 leftover baked potato)
½ cup (125 mL) black beans, rinsed and drained
Veggies and herbs of your choice (diced tomatoes, diced sweet peppers, diced avocado, corn kernels, chopped basil or cilantro)
1 cup (250 mL) shredded mozzarella cheese
Ranch dressing, to serve
DIRECTIONS:
1. Grease a large frying pan with cooking spray and heat over medium heat.
2. Add Egg Creations Fat Free Garden Veggie eggs, diced potatoes, black beans, veggies and herbs of your choice and season well with salt and pepper. Let cook, covered, until almost set, about 7 min.
3. Top with mozzarella cheese, cover and continue cooking for 2-3 min., until cheese has melted. Remove from heat and let stand 5 min. Transfer to a cutting board and slice into 10 slices. Pack for lunches or grab for breakfast on the go. Serve with ranch dressing as a dipping sauce and top with extra herbs, if desired.
TIPS:
* Feel free to add different vegetables like sliced mushrooms, chopped asparagus and diced eggplant.
* Try adding different types of cheese or a combination of cheeses like shredded cheddar and Havarti.
* This hash brown pizza is delicious cold. You can make in advance and eat cold for lunch or re-heat slices in the microwave.