Carlson Introduces Enhanced Mobility™ – Advanced Botanical Joint Support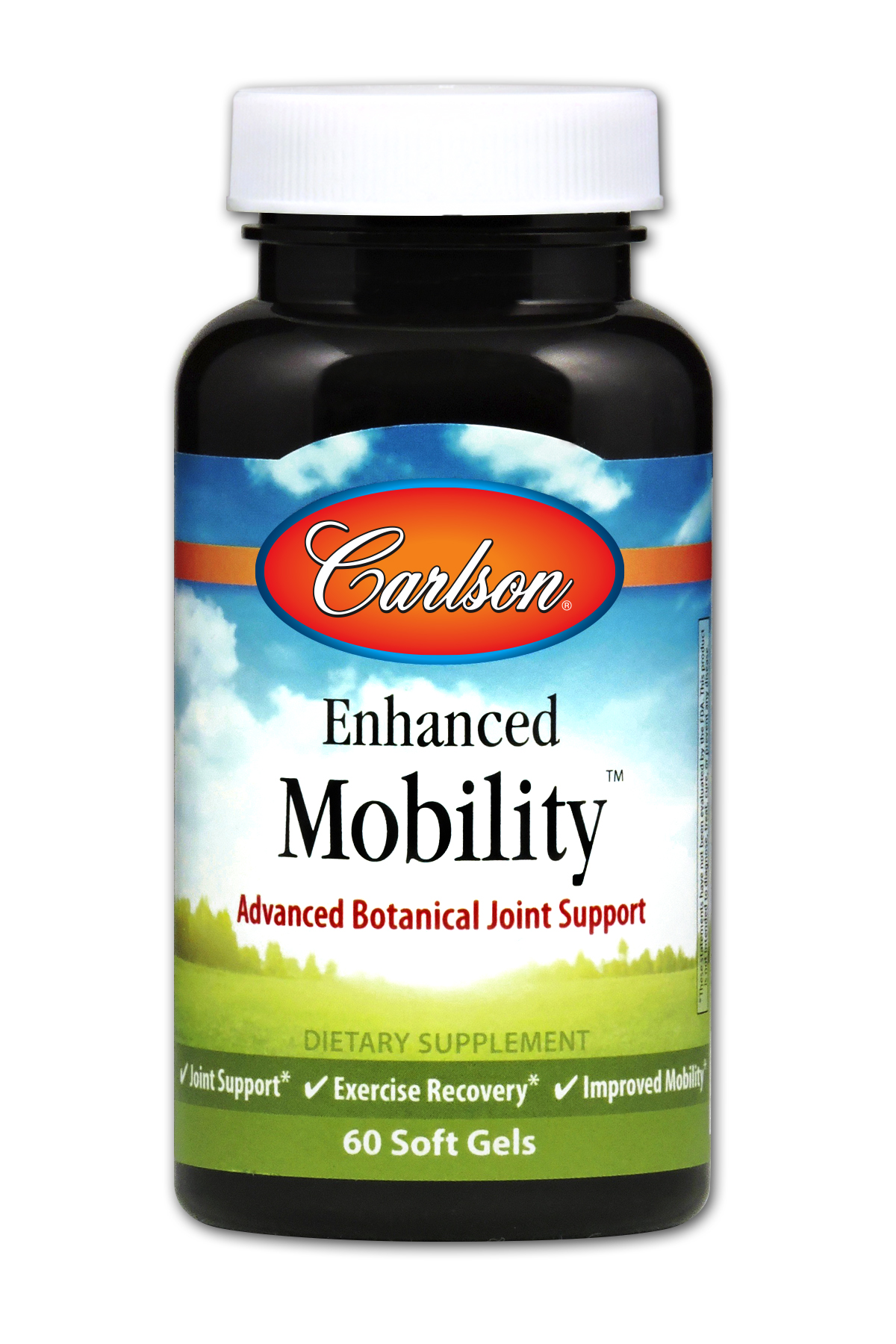 Arlington Heights, Ill. (February 6, 2018) – Millions of people are affected by joint and mobility issues that keep them from enjoying the activities they love. Carlson has made it easier than ever to regain joint comfort and function with Enhanced Mobility™, a unique, high-potency blend of four of nature's most recognized joint health nutrients: boswellia, curcumin, ginger, and tart cherry.*
ApresFlex® AKBA boswellia extract promotes joint and connective tissue health and is specially designed for optimal absorption.*
CurcuWIN™ enhanced curcumin extract supports joint health and flexibility and is produced with UltraSOL® technology, making it highly soluble and bioavailable compared with standard curcumin.*
Gingever® ginger is an antioxidant that protects joints from free radical damage; helps us move freely and easily; and promotes strong, healthy muscles.*
CherryPURE® tart cherry provides the antioxidant power of proanthocyanidins, which help protect our body from free radicals and promote joint and muscle health.*
For more information, visit www.carlsonlabs.com/enhanced-mobility.
About Carlson Labs
Carlson began in 1965 with a single, natural-source vitamin E formula in Founder Susan Carlson's small Chicago apartment and quickly grew to offer the most complete line of natural vitamin E supplements in the world. In the early 1980s, Carlson helped launch the omega-3 market in North America, importing their first high-quality, great-tasting, sustainable fish oils from Norway. In 2009, they released a new marine oil sourced from an abundant species of calamari. Today, the next generation of Carlson leads the company and the innovations continue. Carlson now offers more than 200 products designed with your family's unique nutritional needs in mind. For more information, call (888) 234-5656, email info@carlsonlabs.com, or check out their website at www.carlsonlabs.com. Carlson is located at 600 W. University Dr., Arlington Heights, IL 60004.
*This statement has not been evaluated by the FDA. This product is not intended to diagnose, treat, cure, or prevent any disease.