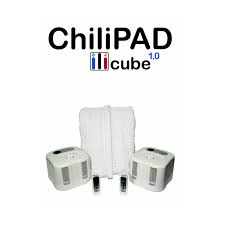 Chili Technology has officially launched our "Gift of Sleep" campaign that we are running throughout the holiday season. Chili Technology is giving away a ChiliPad Cube this holiday season to one deserving individual with a compelling story who is nominated by a loved one.
ChiliPad is a temperature-regulated mattress pad that regulates the surface temperature of each side of the bed so that users sleep comfortably all night long. It uses water to achieve a wide range of in-bed temperatures. With this technology, the water can change from 55 to 110 degrees fahrenheit.
With the heavy emphasis of consumerism during the holidays, the purpose of our contest is to shift the focus and help out someone who is in need this holiday season. The end of the year is a stressful time for everyone and Chili Technology understands how vital a good night's sleep is to overall well being, which is why we have chosen this time of year to giveaway a ChiliPad Cube to someone who is in need of a restful night's sleep.
Enter Here: