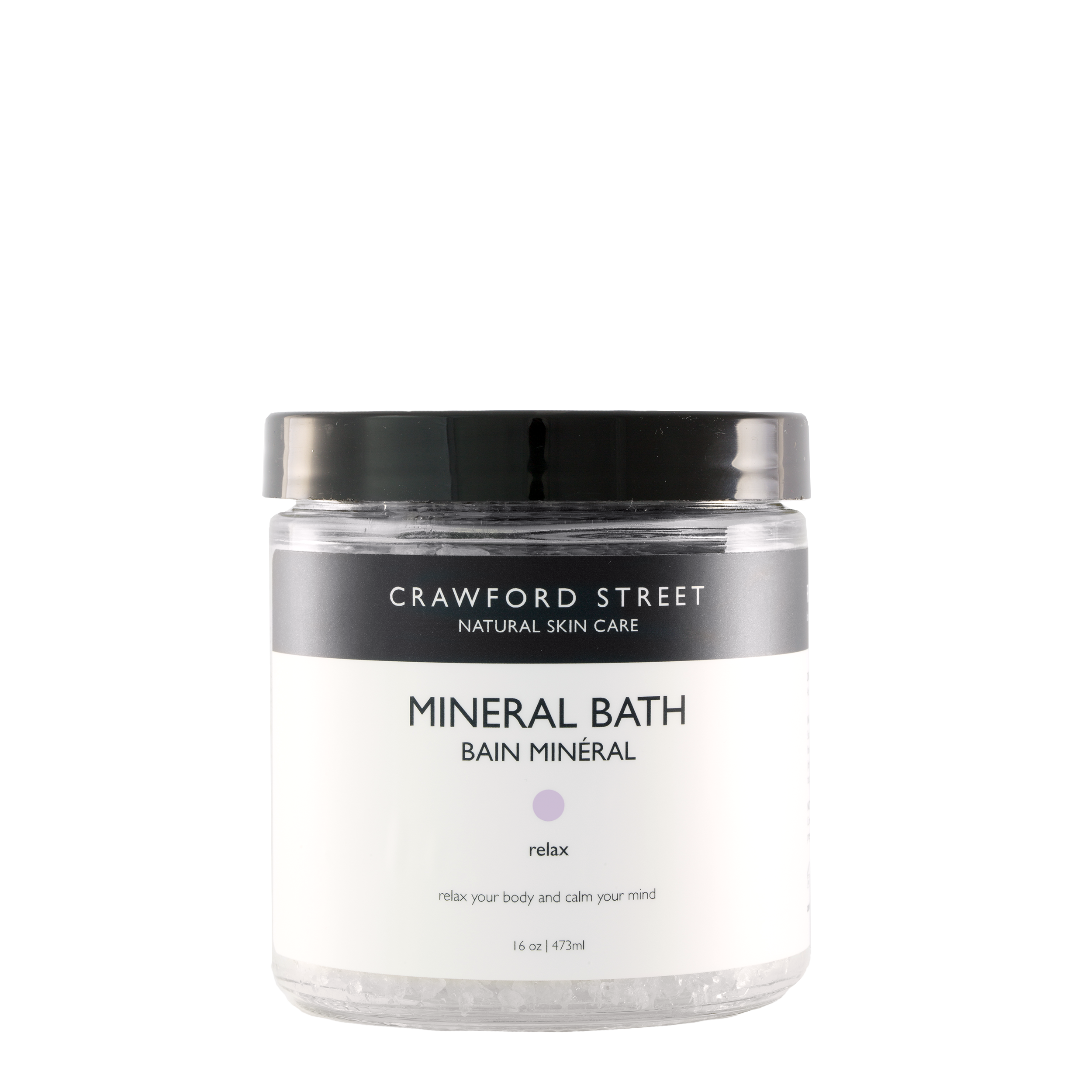 I was recently contacted by a representative from Crawford Street Natural Skin Care to review some of their products. I agreed because I love that they are natural and a Toronto based company.
The first product I tried was the Mineral Bath for relaxing. The main ingredients are: Lavender, Bergamot, Clary Sage and according to Crawford it will "Relax your body and calm you mind with these pure Dead Sea salts topped with dried lavender flowers."
I absolutely loved the smell and when I got out of the tube I felt clean and refreshed. The only thing I did not like was the dried lavender flowers. Why? Because they stuck to the tub once the water was drained and I found them really hard to clean. Other then that I was relaxed and felt refreshed. I definitely think it's worth the $25.00 price tag but I wish that it came in a bigger size. It only is available in 16oz and I take a lot of baths for recovery so the small container did not last me long.
ABOUT CRAWFORD STREET SKIN CARE:
It was founded in 2010 after owner Gaelyne Leslie had a severe allergic reaction to a commercial brand of face moisturizer. Her background as an investigative journalist led her to research the long list of ingredients in her moisturizer and the whole experience left her both horrified, and with extremely sensitive skin.  As a result, she started to experiment with natural ingredients, eventually coming up with a moisturizer that was not only 100 percent natural, but it really worked! Friends noticed her glowing, smooth skin and soon she was whipping up cream for them too. Thrilled with the results, Gaelyne continued to experiment in the kitchen and soon had a small line of handcrafted skin care products.
As a journalist, Gaelyne was committed to quality, integrity and education. She brings this same commitment to her skin care line. "I believe that what you put on your body is as important as what you put in it. And what is left out, is as important as what is mixed in."
Every ingredient that goes into a product is carefully researched and chosen for its unique properties. Gaelyne is always looking for the best ingredients she can offer her customers, and she always chooses fair-trade, sustainable and organic ingredients where available.
Today Crawford Street Skin Care products are produced in small batches in our laboratory on Crawford Street in Toronto. We take special care to ensure that each product arrives to you as fresh as possible.
Crawford Street Skin Care products are 100% natural. They are free of petrochemical derivatives, such as mineral oil and petroleum, PEGs, Parabens, DEA, Sodium laurel sulphate, artificial dyes and fragrances, chemical preservatives.
If you are interested in Crawford Skin Care or The Mineral Bath please visit their website at: https://www.crawfordskincare.com