I was recently contacted by the people over at DermaWand to test out their product! I had a look on their website and loved what I saw so I immediately said yes. The shipping was quick and when I received the product it was packaged beautifully!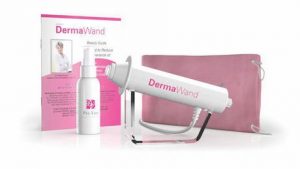 What is the DermaWand you ask:
DermaWand:https://www.dermawand.com/l3/index.aspx
Clinically proven to help reduce visible signs of aging!
• At-home radio frequency device-the same technology used at the doctor's office and medspas
• Manage the visible signs of aging and softens wrinkles and fine lines
• Improve skin tone and texture while decreasing pore size
• See results with as little as two 3-minute treatments a day
• 9 intensity levels allow you to adapt your treatments to your comfort level
According to the website "The DermaWand is clinically proven to visibly reduce the signs of aging by toning, tightening and reducing the appearance of fine lines & wrinkles. It uses the same technology as the big radio frequency machines found at doctors' offices and med spas but is painless, safe with treatments taking as little as 3 minutes."
How does it work you ask? Simple! It's actually really easy to use and it 
uses the same stimulation technology as the big radio frequency machines used by doctors and medical specialists to help manage the signs of premature aging. The difference: DermaWand uses lower amplitude that's perfect for everyday in-home use.  This lower cycle is a
t 100,000 cycles per second, this stimulation creates a massage-like effect while delivering thermal energy and enriched oxygen, plumping the appearance of lines and wrinkles while reducing pore size and appearance. 
By using your DermaWand for only 3 minutes a day, in the morning and evening, your skin will appear more lifted, toned and tightened for a fraction of the cost at a salon.
I tried it for a couple of weeks. Now mind you I am 34 years old, on competition prep (which means I am in the gym up to 3 hours a day) my skin has taken a beating. I actually saw a difference in my skin and using the wand was a nice relaxing break in my day.
Right now on their website if you order it you can try it free for 30 days and you get 120$ in free gifts with your purchase. What a deal! And you can even pay easily with credit card or payapal!
Thank you DermaWand your product is forever a staple in my skin care routine!