EOC Pharma well-positioned to bring innovative oncology drugs to China, says GlobalData
China-based EOC Pharma has recently entered an in-licensing partnership with US-based biopharmaceutical company Aadi Bioscience for the development and commercialization of ABI-009 (Fyarro). This deal, along with the previous in-licensing deals, clearly highlights EOC Pharma's strategy to bring innovative oncology therapies for Chinese patients, says GlobalData, a leading data and analytics company.
Under the agreement, EOC Pharma will obtain exclusive rights for ABI-009 in Greater China including mainland China, Hong Kong, Macau and Taiwan. Aadi will receive an upfront payment, regulatory and sales-based milestone payments as well as tiered royalties based on annual net sales.
ABI-009 is a mTOR inhibitor for the treatment of advanced malignant PEComa, a rare type of sarcoma with no previous approved treatments. This deal reiterates EOC Pharma's focus on indications still with high unmet need.
Bhavani Nelavelly, Pharma Analyst at GlobalData, comments: "EOC Pharma is selectively picking innovative products for in-licensing and has the candidates targeting potential oncology indications like breast cancer, gastric cancer and different types of solid tumors in its pipeline. To succeed in the Chinese market, local partnerships are very crucial for western companies and EOC is leveraging this through in-licensing deals. Moreover, EOC Pharma is well positioned to take advantage of the improved clinical and regulatory environment in China."
According to GlobalData's Pharma Intelligence Center, EOC Pharma currently has seven candidates in its clinical stage pipeline, with three of them targeted for breast cancer. All the pipeline candidates are in-licensed from small or global biopharmas outside China.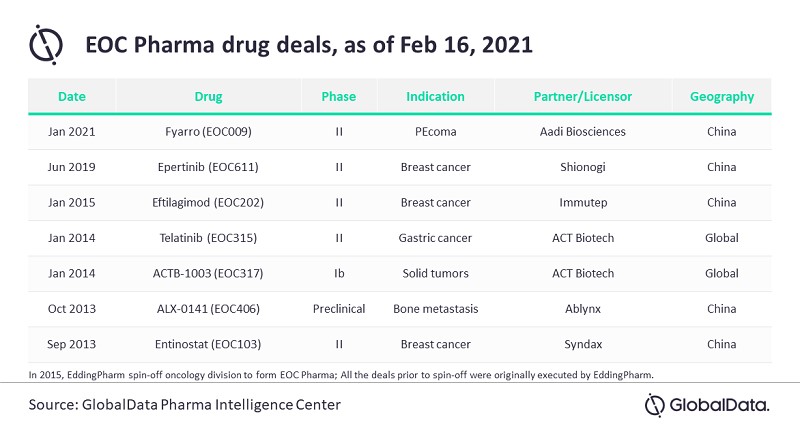 China has the largest number of cancer patients globally, with more than double the number of new cases per year compared to the US, which results in an urgent medical need and continued demand for better cancer treatment options in China.
Ms. Nelavelly concludes: "Western companies see significant opportunities within China's oncology market and want to leverage local partnerships as a winning strategy. Unlike other China-based pure research and development (R&D) based companies, EOC Pharma's business model is well differentiated to make it an integrated one-stop-shop for R&D and commercialization through in-licensing driven partnerships. The several in-licensing deals made over the past few years strengthened EOC's product portfolio in oncology for the Chinese market and helps in gaining a foothold in the most lucrative market."