Famous Canadian Beer Run & Festival Returns to Toronto
New Course, Bigger Festival, Beer Yoga!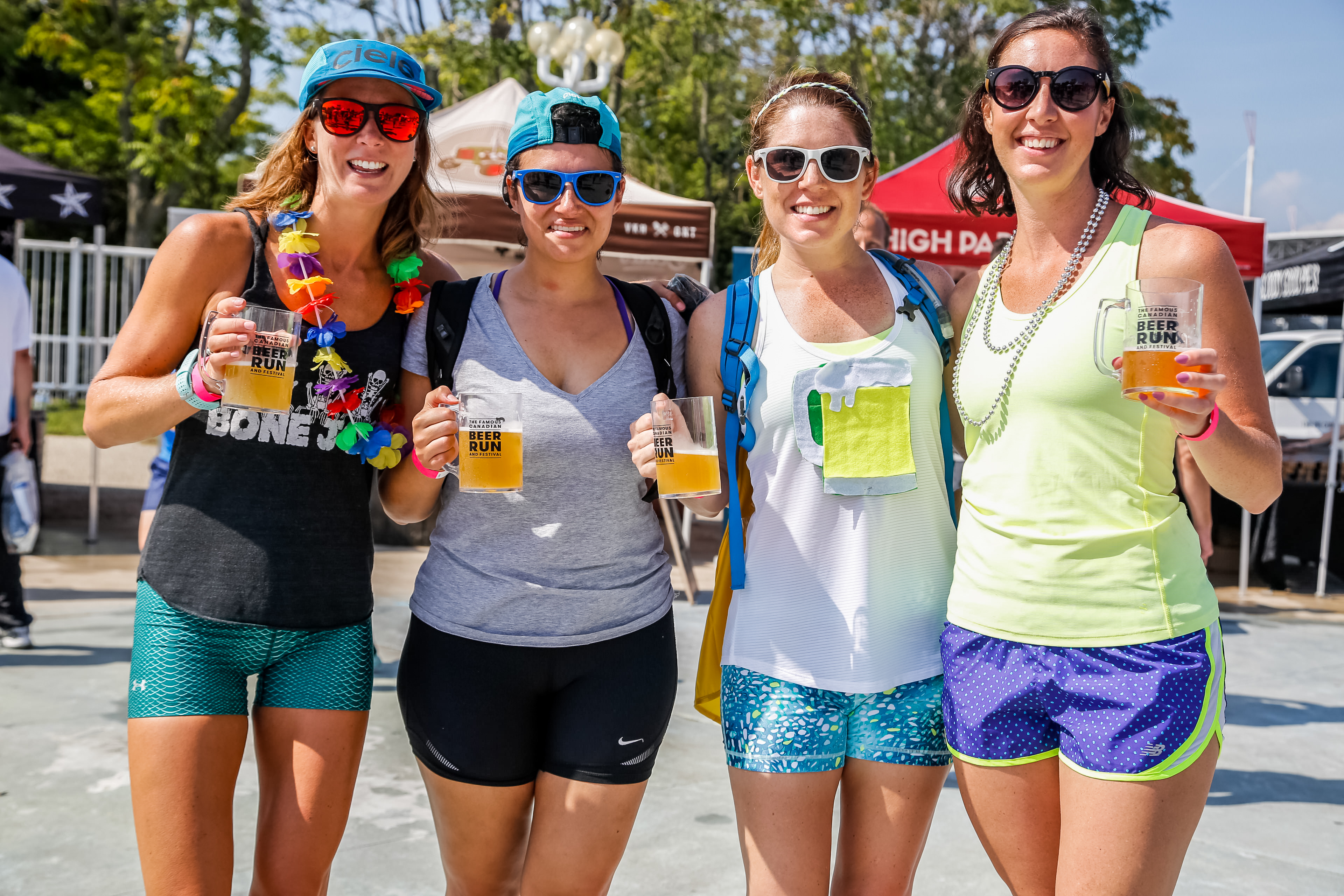 Toronto (June 27, 2017) -- Toronto's Famous Canadian Beer Run is back this year – with a bigger festival, brand new course and even post-run beer yoga classes! The 5K that put the beer back in running, returns to Ontario Place on Sunday, September 17, 2017. Twenty-five hundred (2,500) runners, walkers and beer lovers are expected to attend.
Starting at 10:30 a.m. (with additional wave starts every 30 minutes until 12:30 p.m.) runners and walkers will lace up for a scenic 5-kilometre route through Ontario Place. The brand new course will wind its way through Ontario Place's new green space and along the waterfront, offering stunning views of the city skyline in the background.
In addition to on-course music, members of RunTOBeer (Toronto's craft beer running group) will once again take to the course to cheer on fellow runners. They'll be dressed in their finest beer costumes – from lederhosen to kegs!
But, at the Famous Canadian Beer Run the 5K is just the appetizer. The main course? A massive post-run beer festival and party! Runners cross the finish line and are rewarded with their own beer stein – and two full beers to get them started on the festivities. Then they can sit back in a Muskoka chair, take in views of the CN Tower over Lake Ontario and listen to the sweet sounds of live music while they soothe their (not so) aching muscles. The event will showcase the best of Canadian craft beers, ciders and vodka beverages, including: Beau's All Natural Brewing Co., Mill Street Brewery, Big Rock Brewery, High Park Brewery, Great Lakes Brewery, Lost Craft Beer, Shawn & Ed Brewing Co., soCIAL LITE Craft Cocktails, Shiny Apple Cider and Brickworks Cider.
This year's festival also includes great vendors, popular games such as cornhole, and the opportunity to participate in beer yoga classes being offered throughout the afternoon. Participants can nosh on standard running fare of bananas and bagels, or step up to try gourmet eats from the likes of Heirloom Toronto, The Pie Commission and  Fine Grinds Coffee. New Balance Toronto has also signed on as an official sponsor of this year's event.
Friends and family who do not wish to participate in the 5K can also enjoy the festival by purchasing a festival-only ticket ($25) which includes a beer stein and four beverage tokens (good for two full beers/beverages or four 4 oz. samples).
Each 5K participant will also get to go home with a super-soft commemorative race shirt – whose slogan was selected via a Facebook survey. The slogan "Forge the medal. Hand me a beer." will adorn the front of the heather-grey shirts, suitable for wearing at home or to the pub!
Registration for the Run and Festival-Only pass is open online at www.runforbeer.ca. Early bird prices end June 30th. Participants can save $10 off the full price registration by registering before this date.
More Information: RunForBeer.ca
Registration: RaceRoster.ca