Flexitarian diet is on trend as nearly one-quarter of the global population follows a low meat diet, says GlobalData
Consumers are reducing the amount of meat in their daily consumption and are instead exploring niche areas of the human diet, including trying a different combination of culinary inputs, according to GlobalData, a leading data and analytics company.
According to GlobalData's 2017 Q1 global consumer survey, nearly one-quarter (23%) of the global population stated they follow a low meat diet when asked to describe their daily diet. This suggests that the flexitarian diet is on trend, proving to be the most popular diet among consumers globally.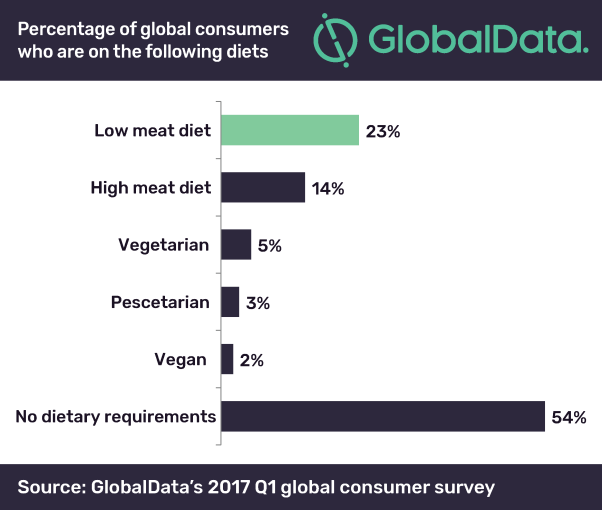 IMAGE FOR PUBLICATION: Percentage of global consumers who are on the following diets
Charles Sissens, Consumer Analyst at GlobalData, says: "Brands within the FMCG community must take it upon themselves to cater for lower levels and/or less frequent meat consumption, and promote the direct benefits associated with a flexitarian diet. More importantly, brands should accommodate these changes by re-formulating new product development to include more plant-based inputs, including fruit, vegetables and nuts."
Californian fast-food chain Plant Power offers consumers traditional meaty meals, such as burger and fries, albeit made 100% from plants. The company highlights their strong health appeal: entirely cholesterol free, 100% GMO free and nothing artificial.
Sissens concludes: "If leading chains such as McDonald's and Burger King can mirror similar tactics, it will increase the availability of plant-based consumption, thus aligning to the growing trend."
GlobalData.com | Facebook | LinkedIn | Twitter
About GlobalData
4,000 of the world's largest companies, including over 70% of FTSE 100 and 60% of Fortune 100 companies, make more timely and better business decisions thanks to GlobalData's unique data, expert analysis and innovative solutions, all in one platform. GlobalData's mission is to help our clients decode the future to be more successful and innovative across a range of industries, including the healthcare, consumer, retail, financial, technology and professional services sectors.