For the First Time: Fastest Growing Frozen Pizza Brand in the U.S Launches in Canada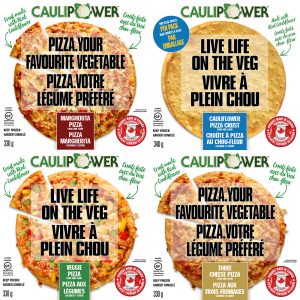 Made in Canada and Available at Sobeys, Whole Foods Market and Select Retailers Beginning This Month
LOS ANGELES, March 28, 2018 – CAULIPOWER ®, the fastest growing frozen pizza brand in the U.S., is launching its signature cauliflower-based foods in Canada, starting with four better-for-you pizzas: Margherita, Three-Cheese, Veggie, and Plain Crust. All of the pizzas are proudly made in Canada and will be available in more than 100 Canadian retailers, including Sobeys, Whole Foods Market West, Urban Fare, Nature's Fare Markets, Nutter's Bulk & Natural Food, Natural Food Pantry, Organic Garage, Vita Health, Nesters Market Grocery Stores and additional grocery stores throughout the next month.
CAULIPOWER is the leading innovator in the category, hacking America's comfort foods to make them more convenient and nutritious. CAULIPOWER disrupted the American market last year with its debut cauliflower-crust pizza line that doesn't hide vegetables but celebrates the nutritious and delicious food group as the star of the meal. The naturally gluten-free pizzas are lower in calories, sugar, fat, and sodium and higher in protein, fiber, and vitamins than most traditional and gluten-free pizzas, while being naturally nutrient-rich, gluten-free, and delicious. CAULIPOWER went from 60 stores to 8,000+ in the U.S in just one year.
"Even before expanding in the U.S., we received an outpouring of requests from our Canadian neighbors to bring CAULIPOWER up north! Well, we listened and now are incredibly proud to produce the pizzas right where they'll be enjoyed," said Gail Becker, Founder and CEO of CAULIPOWER. "With the increased availability of information about the food we eat, more and more people are seeking healthier options, but may not have the time, access, or resources to make those choices happen – CAULIPOWER is here to help bring everyone together over one, better-for-you plate."
For more info and to find a Canadian retail location near you, visit: www.EatCAULIPOWER.com
There's CAULIPOWER in numbers – the team is growing!  For more info on CAULIPOWER job opportunities, email: info@eatcaulipower.com
About CAULIPOWER
CAULIPOWER reinvents our favorite foods to be naturally nutritious, righteously delicious and accessible to all. CAULIPOWER products use real cauliflower, not highly processed synthetics, resulting in nutrient-rich, naturally gluten-free options lower in calories, sugar, sodium and fat than traditional offerings. CAULIPOWER is innovating a new market category, making convenient options that taste like conventional recipes available and easy for mainstream grocery shoppers.
Former Edelman President, Gail Becker, launched the company in February 2017 with an introductory line of frozen pizzas and plain crust that quickly became the fastest growing frozen pizza brand in the U.S. Inspired by her two sons with celiac disease, Gail cracked the code with an easier way to make cauliflower crusts accessible to busy, modern families. CAULIPOWER proudly supports OneSun, a program creating edible gardens at underserved schools across the country to educate kids on where their food comes from, combat obesity and inspire a new generation to love and harvest vegetables. To learn more, find a retailer or get recipe inspiration at EatCAULIPOWER.com and with the @CAULIPOWERED community on Facebook, Instagram, Pinterest, and Twitter.