Four Ways to Keep Your Resolutions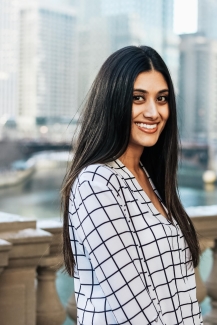 CHICAGO —Award-winning Career and Lifestyle Coach, Neha O'Rourke, has prepared four tips to help keep your New Year's resolutions:
Tip #1 STAY REALISTIC
Take away the heavy-ness of your new year's resolution by changing the goals that may take a little more time or discipline to nail down. If you fall off the wagon — whatever wagon we're talking about here, you can get right back on by changing the timeline, data, or habits.
For example:
If you've barely hit the gym in the last year, then saying you're going to go 5 times a week isn't realistic.
Take the time to really assess what's going to be realistic and attainable for you. Remember – any action, no matter how big or small means you're going in the right direction and are closer to your goal than you were before.
Tip #2 CELEBRATE THE WINS
New Year's resolutions focus on what needs to change, but we don't reflect on the progress we've made in the last year!
There's always something that we could be doing and sometimes that feeling can be overwhelming, which is why we need to acknowledge and celebrate our wins throughout the year. Similarly to making resolutions, you should be celebrating those accomplishments on a more frequent basis.
There's actual science behind how your thoughts are creating your reality and gratitude can manifest incredible things.
Tip #3 EVALUATING YOUR HAPPINESS AND GOALS THROUGHOUT THE YEAR
If you think about it, it is inefficient to go an entire year without reflecting on how things are going and what needs to change. Assessing our lives at the end of each year is just not conducive to living our best lives.
Rather than only looking at it once a year, figure out a more frequent cadence that works for you. For me, that's monthly. I like to reflect on what's making me happy, what's bringing me down and what I want to achieve.
Tip #4 DIG A LITTLE DEEPER
I'd like to add to your new year's resolutions by asking you to consider the fact that the average American spends 90,000 hours working – ahem: over 10 years of your life simply working!
Chances are, there's a reason you haven't made your desired change already. Maybe you haven't made it to the gym because you're working late every night. In that case, your goal might actually be to set boundaries at work so you get some time to make it to the gym.
By thinking about the root of the issue, you're positioning yourself to be successful at achieving your resolution.
—————
Neha O'Rourke is the Founder and Career Coach at Somewhere In Between Coaching, a coaching company that empowers women around the country and across industries in designing a career and life they love. Since founding Somewhere In Between, Neha has served hundreds of women in avoiding career burnout through her signature 1:1 career coaching programs, research-based blog series, and public appearances. She was recently named "20 on the Rise" in the coaching category by Honeybook and Rising Tide Society.