Global poll shows people think fewer die from diseases but more die from other causes
On average, people underestimate deaths from heart disease by almost three times
Poll, February 25, 2020 — Benjamin Franklin once famously wrote "in this world nothing can be said to be certain – except death and taxes." And while death is still certain, there seems to be a lot of confusion about how we die, according to latest Ipsos survey.
In a poll of 16,000 people across 32 countries, people on average tend to underestimate how many deaths are caused by diseases like heart disease, cancer and neurological disorders in their country, while they vastly overestimate how many people die from other causes like car crashes, violence, suicide, substance abuse and terrorism.
Cardiovascular diseases are the leading cause of death worldwide with almost one-third (32%) of people dying from this every year, according to the Institute for Health Metrics and Evaluation (IHME). But the average guess on deaths in all the countries surveyed was just 11%.
Cancer is the second biggest cause of death globally with a quarter of people (24%) dying from this each year – respondents thought the number of deaths is 15%.
About 9% of deaths occur from neurological disorders like Parkinson's disease or dementia, but people guessed it was about half that at 5%.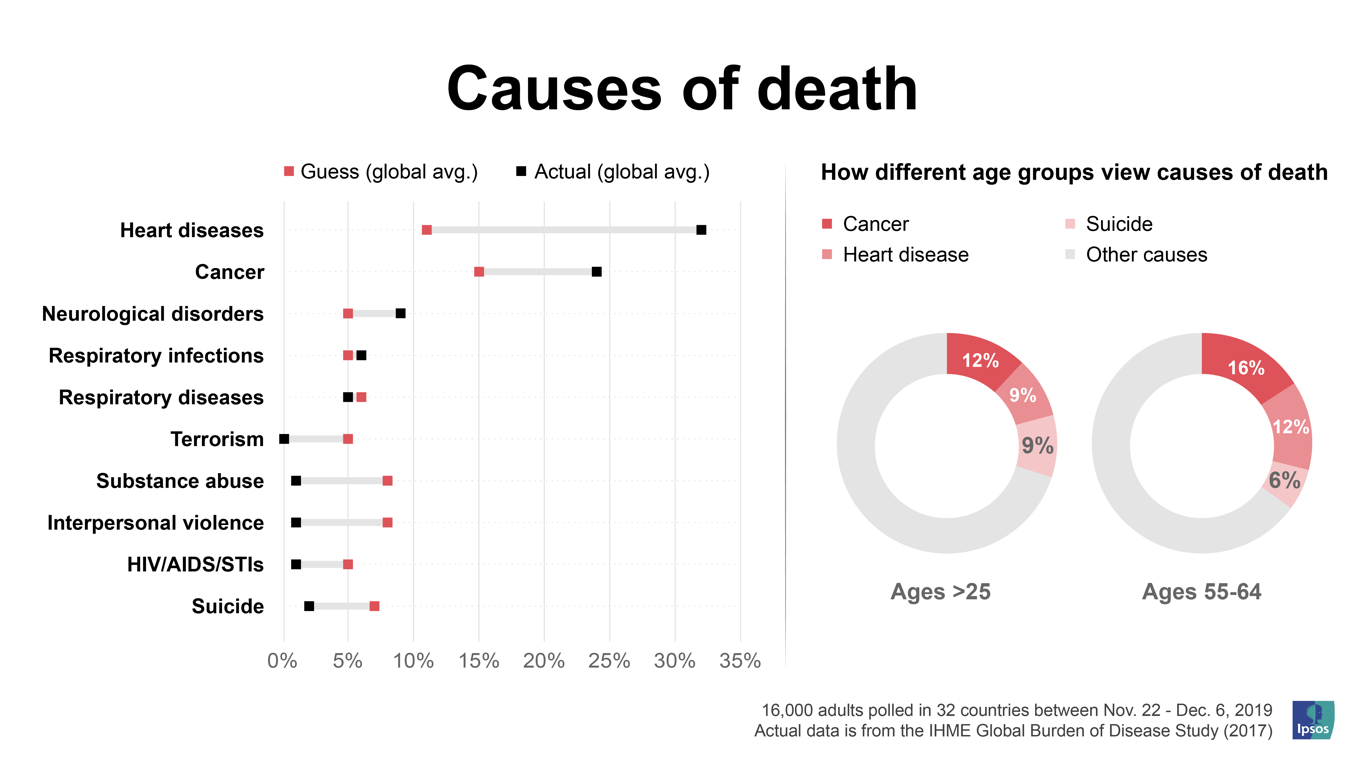 On the other end, people think 10% of deaths every year are from transport injuries, when the figure is just 2%. People thought 8% of deaths are from violence and substance abuse like drugs and alcohol, but the actual number is just 1% a year globally.
Experts say a combination of how the media reports on death, the dramatization of vivid scenes of death available to us, and the recency of such information – which may make it more salient or important – are influences affecting the way we think about dying.
Namika Sagara, President of Ipsos Behavioral Science Center in New York, said deaths from car crashes, gun violence and terrorism are usually very dramatic, and therefore people are likely to remember them more.
"These likely to come to mind more easily, and leads people to think it happens more often," said Sagara. "This is related to availability bias."
Sheldon Solomon, Professor of Psychology at Skidmore College in the U.S., backed this by adding that we tend to overestimate the frequency of events that are salient to us.
"We are more likely to die falling in our bathrooms than by being murdered by terrorists or in an airplane crash, but people probably never see news about someone falling in their bathrooms and dying," said Prof. Solomon.
"Moreover, crashes, terrorism and violence are more immediate whereas high blood pressure and cancer happen more slowly over time such that we might underestimate their frequency as a result."
More than a third of people surveyed said they see transport injuries such as accidents (38%), violence such as murder (37%), and terrorism and conflict (35%) most frequently in the news – the highest among all 14 causes of death. But the top three causes of death that the majority of people said they have been personally affected by are cancer (70%), heart disease (60%) and diabetes or kidney diseases (58%).
The entire story on the findings and what influences our view on causes of death can viewed here.
About the Study
These are the findings of the Ipsos MORI Perils of Perception Survey 2020. 16,000 interviews were conducted between 22 November and 6 December 2019.The survey is conducted in 32 countries around the world, via the Ipsos Online Panel system in Argentina, Australia, Belgium, Brazil, Canada, Chile, SAR China, Colombia, France, Germany, Great Britain, Hong Kong, SAR, China, Hungary, India, Italy, Japan, Malaysia, Mexico, Netherlands, Peru, Poland, Romania, Russia, Saudi Arabia, Singapore, South Africa, South Korea, Spain, Sweden, Turkey and the USA.
For more information on this news release, please contact:
Rajeshni Naidu-Ghelani
Data Journalist, Ipsos Global Advisor
+1 416 508-7805
rajeshni.naidu-ghelani@ipsos.com
About Ipsos
Ipsos is the world's third largest market research company, present in 90 markets and employing more than 18,000 people.
Our passionately curious research professionals, analysts and scientists have built unique multi-specialist capabilities that provide true understanding and powerful insights into the actions, opinions and motivations of citizens, consumers, patients, customers or employees. We serve more than 5,000 clients across the world with 75 business solutions.
Founded in France in 1975, Ipsos is listed on the Euronext Paris since July 1st, 1999. The company is part of the SBF 120 and the Mid-60 index and is eligible for the Deferred Settlement Service (SRD).
ISIN code FR0000073298, Reuters ISOS.PA, Bloomberg IPS:FP www.ipsos.com