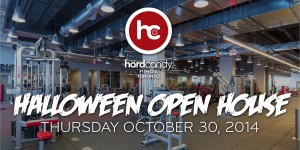 SPECIAL HALLOWEEN OPEN HOUSE!
Thursday October 30, 2014
Start your Halloween weekend off right and take advantage of our complimentary open invite to Hard Candy Fitness Toronto!
On October 30th, we're opening the doors to you, your friends, family and co-workers for the entire day and ending it off with special performances, costume contests, and a Halloween social where you can enjoy some drinks and snacks on us! Don't worry, costumes are optional but we encourage you to get in the spirit.
Come in, workout, enjoy great music hosted by one of our special guest DJs, and be a part of the Hard Candy Fitness experience that so many of us have grown to call home. And, for all you trick or treaters out there, we're opening a very special membership promotion for one day only!
Please note: drinks and snacks will be served from 6:00pm to 10:00pm.
We're proud to have some of our Addicted to Sweat Dance instructors team up with dozens of our members for a special performance of Michael Jackson's 'Thriller'!
Join us in the Energy Studio at

8:30 pm

to witness the original choreography of a dance music video that changed the way we experienced music videos.
This is going to be truly special!
As a valued member you can benefit from our Open House event by participating in our Referral Incentives Program.
Refer one new member that signs up at Hard Candy Fitness and you will receive 50% off your monthly dues for the next month.
Refer three new members that sign up at Hard Candy Fitness and you will receive one-month free access your choice of one Specialty Class.

Transformer
Off the Wall Yoga
Adrenaline

Refer six new members that sign up at Hard Candy Fitness and you will receive $500 credit of services free at our club. Credit is applicable to:

Specialty Classes
Personal Training
Juice Bar Items