Hazing Aging - Book Review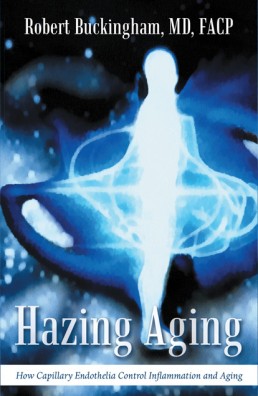 Physician, Robert Buckingham believes the key to reversing the aging process lies within a group of cells that line the body's blood vessels, called the vascular endothelium. He wants to help as many people as he can through disease prevention to develop anti-inflammatory lifestyle choices that would serve people well in againg with grace.
His new book, "Hazing Aging" explores how maintaining the health of these cells through basic lifestyle changes can reverse effects of aging and drastically prolong lifespans. A lot of the clients that I work with are all going through some form of lifestyle change so I found this book very eye opening with the tactics that I will now implement with them. "Health care prevention does not have to be complicated or disjointed, rather it can be wrapped around a core understanding of vascular inflammatory risk mitigation." I am a firm believer and so is Dr. Buckingham that when you get older you don't have to hurt, your heart doesn't have to fail and that your brain does not have to rot.
I consider myself well educated based on my degrees, certifications and experience so I found this book very interesting because this is the first time that I had heard of the vascular endothelium which is a group of cells that line the body's blood vessels. These cells have evolved according to Dr. Buckingham in both structure and function to facilitate efficient and specific exchanges between blood and organs. He says that by focusing on theses cells, you'll improve end-organ function, reverse adverse effects of aging and live happier. After delving into the physiology I believe that this is possible but for some it does take a lot of change. I feel in my experience that the personal has to willingly understand and want the change and you can't force it on them. No one can change unless they desire it themselves deep down.
According to the National Council on Aging, approximately 92% of oder adults have at least one chronic disease. That's crazy to me. And so unfortunately. That means that you or a loved one could be suffering in the future from a chronic disease. Doesn't that make you want to do everything that you can to prevent that so that you can age with grace.
About The Author Robert L. Buckingham, MD, FACP, has been a practicing physician in Ojai, California, for thirty-six years. He received his medical degree from the University of Illinois College of Medicine, where he graduated as a James Scholar with an MD and a master's degree in pharmacology. He firmly believes that all should be informed about health, longevity and anti-aging.
Check out this great video by Dr. Buckingham below explaining his book:
For more information please visit his site: http://www.drbuckingham-hazingaging.com