Hello Trees. Hello Allergies. The Sneezing Season Is Here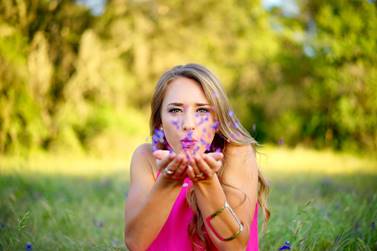 How to stop allergies & allergic reactions naturally with wild spices
An interview with Dr. Cass Ingram, author of The Miracle of Wild Oregano
If it feels like the annual allergy season is getting longer and worse, it's because it is.
Climate researchers say rising temperatures and higher concentrations of carbon dioxide in the atmosphere are prolonging the pollen production seasons and increasing the amount of pollen that plants produce.
For the more than 26 million Americans who suffer from seasonal allergies, also known as allergic rhinitis, or "hay fever," that means a longer span of irritated eyes, sneezing, a runny nose, and congestion. Healthcare professionals also believe that the combination of longer growing seasons and an increase in pollen, production is linked to a spike in patients developing allergy symptoms, an American Academy of Allergy Asthma and Immunology (AAAI) survey found.

Millions of Americans experience year-round allergy symptoms, regardless of when pollen season starts, due to the presence of indoor allergens such as dust mites, pet dander, and mold, says Dr. Cass Ingram, an expert on wild medicinal spices and author of the book The Miracle of Wild Oregano.

In fact, most nasal and sinus problems attributed to pollen are actually caused by entrenched colonies of fungi living year-round in the nasal cavity.
For natural health enthusiasts, Dr. Ingram reveals how to quiet allergy symptoms not with over-the-counter medications and their accompanying side-effects, but rather by using the medicinal power of wild oregano and other germ-fighting aromatic spices.
Here are Dr. Ingram's tips for beating allergy symptoms naturally:
Clean your home with natural antiseptics to eliminate indoor allergens, including dust mites and mold. Non-toxic medicinal spice OregaSpray will kill mold spores and other harmful microbes. Can be sprayed on air conditioner filters to decrease mold and viral transmission. The blended spray includes oregano, cumin, and other essential oils.
Saline-based nasal wash containing essential oils of sage, bay leaf, clove, and oregano will inactivate spores, microbes, and pathogens growing in the nasal and sinus passageways. All-natural SinuOrega can be used daily.
Eliminate dairy, including milk and packaged products with dairy ingredients.
Your respiratory system is already under attack from allergens -- don't overtax your immune system by creating excess mucus that needs to be eliminated.
For Runny Nose and Sneezing
Studies show that molds are the cause of a wide range of sinus symptoms, including runny nose, postnasal drip, acute sinus infections, and stuffy sinuses, as well as chronic sinusitis itself, says Dr. Ingram. Treatment protocol: Inhale the wild oregano oil frequently, place a drop or two of oil on the skin next to the nose; consume it under the tongue, five or more drops twice daily.
Oil of wild oregano is a type of natural sinus medicine. It helps to open clogged sinus passages while thinning mucus as well as halting excessive mucus secretion. Wild oregano has been used historically to relieve constricted breathing, including asthma attacks. As mentioned previously it possesses significant powers for reversing a wide range of lung- and bronchial-related symptoms, including congestion, cough, thick mucus, and wheezing, says Dr. Ingram. Treatment protocol: Inhale the oil frequently to help open clogged passages. Place a drop or two of oil of wild oregano on the skin next to the nose for a more direct effect.
The oil is currently being evaluated in a clinical setting in the treatment of coughing. Of the twenty individuals so far tested, all noted significant relief from coughing after taking either oregano oil or the crushed oregano herb. Many have reported an outright cure, says Dr. Ingram. Treatment protocol: Inhale the oil of wild oregano directly from the bottle as often as possible. Take a few drops of the oil under the tongue twice daily or gargle with a few drops in saltwater.

ABOUT THE AUTHOR DR. CASS INGRAM (cassingram.com/ northamericanherbandspice.com)
Dr. Cass Ingram is a nutritional physician who received a B.S. in biology and chemistry from the University of Northern Iowa (1979) and a D.O. from The University of Osteopathic Medicine and Health Sciences in Des Moines, IA (1984). Dr. Ingram has since written over 20 books on natural healing. He has given answers and hope to millions through lectures on thousands of radio/TV shows. His research and writing have led to countless cures and discoveries. Dr. Cass Ingram presents 100's of health tips and insights in his many books on health, nutrition, and disease prevention. Dr. Ingram is one of North America's leading experts on the health benefits and disease-fighting properties of wild medicinal spice extracts. A popular media personality, he has appeared on over 5,000 radio and TV shows. He now travels the world promoting perfect health in the natural way.