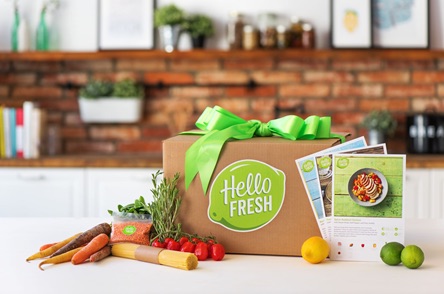 Finding that perfect holiday gift for everyone on your list can add an unnecessary stress to the already hectic holidays. HelloFresh is delicious gift that can be delivered to everyone on your list, including:
-          Parents, grandparents and in-laws who enjoy cooking and could use a new and refreshing recipe.
-          Practical people who want a gift that has use, like ingredients to make a delicious dinner!
-          Fit foodies who like delicious and satisfying meals that are also nutritious.
-          Couples or significant other who you're not sure what to give but cooking dinner together is a great way to bond.
-          Friends you forgot who deserve a great gift and don't want to show it was purchased last minute.
For everyone on your shopping list, HelloFresh offers the opportunity to enjoy healthy home-cooked meals without the hassle! Eliminating the need to plan or shop, HelloFresh delivers delicious and satisfying meals that are easy and fun to make in just about 30 minutes. Gift cards are available at HelloFresh.ca.
So much more than a gift, the benefits of cooking a HelloFresh meal at home are endless, from building healthy eating habits to learning new cooking techniques and bonding over creating a meal together.