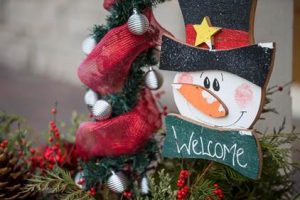 It's Christmas time in the GTA, and that means skating at Nathan Phillips, hot apple cider on the waterfront, and…visits to Markham? It's true: Ontario's most diverse city is a festive powerhouse, rich in holiday attractions you may have been missing out on. Don't believe us? Read on for a primer on the "where", "what", and "when" that make the holiday season magical in Markham.
Where to Shop
It wouldn't really be the holidays without some last-minute shopping, would it? If you're caught up in a seasonal scramble for gifts, you're going to want to check out CF Markville. Move over, Eaton Centre:  Markham's largest mall boasts 160 stores and—most importantly—a fraction of the downtown foot traffic. The presence of retail favourites like Toys R Us, Uniqlo, and Best Buy means you'll be able to get everything in one go…and do a little less stressing about shopping this season.
Where to Revel
Distillery District feeling a little crowded this year? Check out the Christmas Market in historic Main Street Unionville! With original structures dating all the way back to 1794, Unionville serves as an ideal "Santa's Village" with charm to spare. Head over on the 15th and 16th of December for a full day of live entertainment, festive décor, and sweet winter treats. Don't forget to bring the whole family down on the 22nd for a special breakfast with Santa himself.  We don't know how they tracked him down, but we aren't about to look a gift horse in the mouth.
Where to Stay
Staying in the GTA over the holidays, or just looking for a holiday home away from home? You can't go wrong with the Toronto Marriott Markham—Markham's all-new modern hotel. The elegantly-appointed property is conveniently located in the heart of Downtown Markham, walking distance from Cineplex Cinemas VIP & IMAX, restaurants including Ruth's Chris and Costa Sorrento, and the Pride of Canada Carousel. You'll feel especially jolly this season if you take advantage of their holiday promotions: a three-course holiday dinner at Draco restaurant from the 17th to 23rd and a specially discounted holiday room rate of 15%. When the weather outside gets frightful, a weekend stay at the Marriott will have you feeling delightful—and provide the perfect excuse to check out everything else that Markham has to offer.
Ready to make Markham your holiday ho-ho-home? You can book your preferred rate with Marriott's holiday promo here.