Hyland's Arnica - Product Review
Ive been a fan of arnica for quite some time. So when Hyland's  asked me to review their product of course I said yes.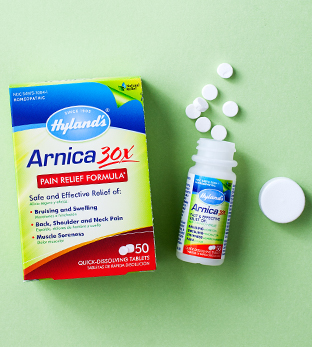 What is Arnica?
Active Ingredient | Purpose:
Arnica Montana 30X HPUS: bruising, swelling, stiffness, muscle soreness and pain.
"HPUS" indicates that the active ingredients are in the official Homeopathic Pharmacopoeia of the United States.
Inactive Ingredients: Acacia Gum, Lactose N.F.
Arnica temporarily relieves the symptoms of muscle pain, soreness, bruising and swelling due to injuries and overexertion.
I found the Hyland's arnica to be the perfect size pills and it gave me lots of servings. If you work out a lot and suffer from sore muscles, brushing and injuries I highly recommend using Arnica because I find it very helpful.
Hyland's Arnica 30x is the smart choice for relieving both everyday pain or acute injury.* Our new pain relief formula speeds your recovery from injuries and trauma. You can even take it before activity to minimize pain later. Arnica 30x relieves pain from joint & muscle soreness, bruising, swelling, stiffness, back ache, fatigue and inflammation.
For more information on Arnica montana, visit www.arnica.com
For more information on their arnica you can visit their site:
http://www.hylands.com/products/hylands-arnica-30x
*Claims based on traditional homeopathic practice, not accepted medical evidence. Not FDA evaluated.*