Hyland's DEFEND Severe Cold & Flu - Review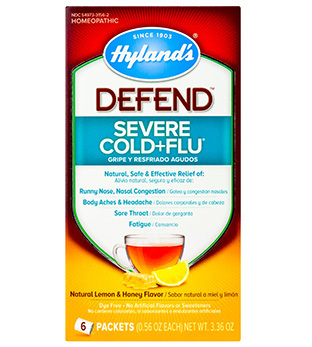 Hyland's sent me their product Defend Severe Cold & Flu. Because I don't get sick very often I have not had a chance to try it. But like any of their products I can assure you that it most likely will help to aid in reducing symptoms.
The packaging is nice and I like that it comes in single serve packets.
According to Hyland's "When a bad bug has you bedridden, there is nothing like a nice, hot cup of Hyland's DEFENDTMSevere Cold & Flu. It tastes like honey and lemon, and fights the symptoms of cold and flu naturally. This safe, natural homeopathic medicine is formulated for severe cold and flu symptoms, including congestion, runny nose, fever, chills and body ache. So stay warm, get cozy and sip your symptoms away, with Hyland's DEFENDTM Severe Cold & Flu."
They say that it "Temporarily relieves the symptoms of severe cold and flu including the early onset of flu, runny nose and nasal congestion, sore, hoarse throat, cough, headache and body ache, fatigue, fever and chills."
Active Ingredients:
Each packet contains 160 mg of:
Aconitum 6X HPUS - Sore throat, cough
Anas Barbariae Hepatis et Cordis Extractum 200C HPUS - Early onset flu, including fever, chills and body aches
Bryonia 6X HPUS - Headache, fatigue, fever
Eupatorium Perfoliatum 6X HPUS - Fever with chills, body ache, headache
Euphrasia Officinalis 6X HPUS - Nasal congestion, runny nose, cough
Gelsemium Sempervirens 6X HPUS - Hoarse throat, fatigue, fever
Kali lodatum 6X HPUS - Headache, sore throat
"HPUS" indicates the active ingredients are in the official HomeopathicPharmacopoeia of the United States.
Inactive Ingredients
Citric Acid USP, Fructose, Honey Powder, Lactose N.F., Natural Color, Natural Flavors, Silicon Dioxide (absorbs moisture).
If you want to find out more information or where to buy you can visit them at: http://www.hylands.com/products/hylands-defendtm-severe-cold-flu
*Claims based on traditional homeopathic practice, not accepted medical evidence. Not FDA evaluated.*