INTERNIST WARNS OF THE HIDDEN DANGERS LURKING IN SOME DIETARY SUPPLEMENTS AND HOW TO CHOOSE WISELY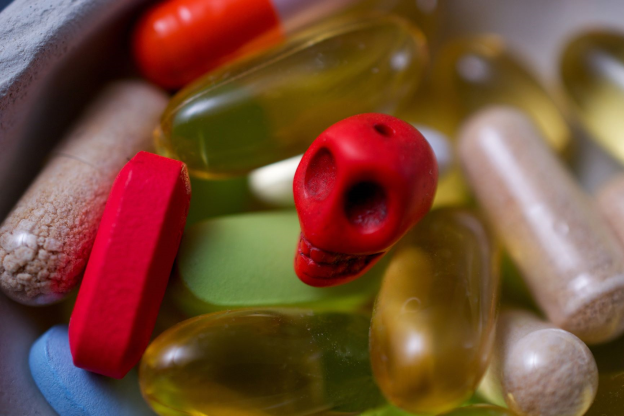 In our society of ever-increasing health consciousness, many people are exercising more, going vegan, drinking less, quitting smoking, and shying away from pharmaceutical drugs. Instead of taking prescription meds to sleep, to treat problems with menopause, infertility, weight loss, erectile dysfunction, etc., they are turning to "natural supplements" sold in vitamin shops, drug stores, and online. Their labels say they are safe and all-natural. But are they? Dr. Niket Sonpal, an internist and gastroenterologist at Touro College of Osteopathic Medicine, in New York weighs in on this timely topic. Researchers found that from 2007 to 2016, 776 products marketed as dietary supplements contained hidden active ingredients that are unsafe or unstudied. (credit: nbcnews.com) How does one choose safe supplements? Unlike pharmaceutical drugs, the Food and Drug Administration does not regulate dietary supplements.
Speak with your doctor
If you are taking medication, pregnant, or breastfeeding. Many supplements can interfere with prescription drugs. Ensure that the supplement can be safely incorporated with your current medications. Consult with your doctor even if you are not pregnant before beginning any new supplement, especially if it is not something basic like Vitamin B, Vitamin C, Vitamin D, or Fish Oil.
Buy supplements from a reputable source.
Since supplements aren't regulated, many companies do not go through the process of quality control to ensure the label matches the product and that the ingredients in the bottle are pure. Large national brands are more reliable than mom and pop companies because they can afford quality control measures.
Look for third-party verification online.
Some third-party websites provide analysis of supplements, like Labdoor.com and Consumerlabs.com. These websites publish lists of the highest quality supplements.
Choose single-ingredient supplements.
Supplements that contain a single ingredient are more likely to contain the amount of the ingredient advertised on the label and less likely to have high levels of contamination. Companies selling "proprietary blends" do not have to report any ingredient amounts on their labels and should be avoided.
Be wary of certain types of pills
Exercise, weight-loss, and sexual-enhancement supplements. The products analyzed in a JAMA study fell into these three categories. Several of the weight-loss supplements actually contained an amphetamine-like drug called sibutramine, which is banned in the U.S., Asia, and Europe.
Be careful where you purchase your supplements
Big-chain drugstores, pharmacies, and supplement stores like GNC or the Vitamin Shoppe may act faster to pull recalled items.
If claims sound too good to be true, they probably are.
Be mindful of product claims such as "works better than [a prescription drug]," "totally safe," or has "no side effects."
Some can have fatal consequences.
Dr. Sonpal sees numerous patients who present with liver damage from using supplements that may alone be harmful or interact with other medications/substances.Taking the wrong supplement in the wrong circumstances could, in rare cases, even be fatal. There are multiple documented cases of patients with fulminant liver failure after taking dietary supplements. Just this month, a healthy 23-year-old Texas woman went into acute liver failure after taking four pills daily of a women's herbal supplement designed to help support hormonal balance, weight management, complexion, and fertility. Her doctor said that "while acute liver failure is rare, about 30% to 40% of cases are linked to herbal or dietary supplements." According to the National Institutes of Health, liver injury from medications, herbals, or dietary supplements has emerged as an increasingly important health problem in the United States."
Seek medical attention if you experience sudden symptoms after taking supplements such as:
Dizziness
Nausea
Shaking
Vomiting
Stomach Pain
Shortness of Breath
Anxiety
Diarrhea
Insomnia
About Dr. Niket Sonpal:

Dr. Niket Sonpal is an Adjunct Assistant Professor at Touro College of Osteopathic Medicine and Clinical instructor at Kingsbrook Jewish Medical Center, Brooklyn who specializes in Gastroenterology. He is a graduate of the Medical University of Silesia – Hope Medical Institute in Poland. After completing his residency in Internal Medicine at Lenox Hill Hospital, he was selected to be the 2013‐2014 Chief Resident at Lenox Hill Hospital–Northshore LIJ Health System. Dr. Sonpal has completed his Fellowship in Gastroenterology & Hepatology at Lenox Hill Hospital and continues his work in the field of medical student and resident test preparation. He now serves as the associate program director for the Internal Medicine Residency Program at Brookdale University medical center.

He is the co‐author for the best-selling Master the Boards: USMLE Step 2 CK, Master the Boards Step 3, And Master the Boards: Internal Medicine. He is also the Chief Operating Officer for Medquest Test Prep, Director of Medical Education for Picmonic Test Prep, and a recognized expert on medical test prep.