It has been really popular and thought this would be great for a product you, as a potential reseller?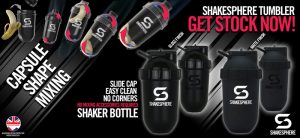 With Zero corners ShakeSphere Tumbler eradicates the need for mixing accessories.
It's perfect for those with busy lifestyles, that demand a shaker that is easy to use and clean!
Protein powder, meal replacements and even soft fruits are quickly broken down at each opposing hemisphere shaped ends.
Key points:
No Corners – Offers superior mixing without the need for mixing accessories
Great for - Meal Replacement powders, protein powders, weight loss powders, nutritional powders, Amino Acids, Pre workouts.
Also works with Banana's and other soft fruits
Easy clean - saving you time.
Saves you money  - powders getting stuck costs you money!
Slide Cap - can't drip on you or poke you in the eye when you are drinking and 100% leak proof.
Dishwasher safe
FDA - Approved