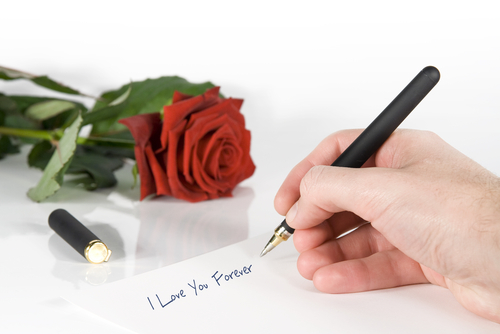 IS YOUR LOVE LETTER SWOON-WORTHY ENOUH TO WIN A TIFFANY RING?

New York Times Best-Selling Authors Share Tips to Win The 2019 Love Letter ContestIn the era of online dating, Cupid's age-old trappings like hand-written love notes have fallen by the wayside. But this timeless display of affection will never go out of style. Given the rarity, a love letter could be just what you need to win over that crush, rekindle the romance, or even show your squad-love for Galentine's Day. When was the last time you told someone you loved how you really felt?  Where do you even begin?Luckily, expert writers Dalma Heyn and Richard Marek have your back.  This husband and wife team of New York Times best-selling authors are sharing insight and advice to communicating love in the digital age.  Whether it's platonic or romantic, Heyn and Marek will show your audience secrets to crafting the perfect love letter, the three things every lover note must have, and the complexity of communicating love in the age of Tinder. They also have examples of hilarious "worst ever" letters that encourage the audience to respond with their own "worst evers."ABOUT THE 2019 LOVE LETTER CONTEST:To celebrate the release on Feb 5 of their new book, How to Fall in Love, Heyn and Marek are on a nationwide search to find the perfect love letter. The 2019 Love Letter Contest runs until April 30, it is totally free to enter, and the winner will be announced on May 15. 
The winner will receive:A rose-gold Tiffany Paloma Picasso Love Ring  (valued at $500).A framed, gorgeously hand-written copy of their letter.Your winning letter shared (if the winner chooses) with our entire social network.Participating is easy. All you need to do is:Bare your soul in writing (okay, that part might not be all that easy).Send your love letter to us at thestoryplant@thestoryplant.com.That's it! (You might, of course, want to share the love letter with the person you were writing it to, but that's entirely up to you.)To see the complete set of contest rules, click HERE. IN AN INTERVIEW / ARTICLE HEYN & MAREK CAN DISCUSS:Writing tips that will make your sweetheart swoon (and also win you the 2019 Love Letter Contest)Love letters & the digital ageHilarious "worst-ever"  love letters How to communicate love in the age of TinderThe one thing you should NEVER do when writing a love letter  ABOUT AUTHORS DALMA HEYN & RICHARD MAREK:
Husband and wife team Dalma Heyn and Richard Marek are the authors of How to Fall in Love. Heyn is the author of the New York Times best-seller The Erotic Silence of the American Wife, Marriage Shock and Drama Kings. Her books, published in 35 countries, have been best-sellers both here and abroad. Richard Marek is one of the most accomplished book editors and publishers of his generation, working with writers James Baldwin, Thomas Harris, and Robert Ludlum, among many others. He is the author of Works of Genius and has ghostwritten a number of best-sellers.
ABOUT THE BOOK, HOW TO FALL IN LOVE:Releasing February 5 from The Story Plant, How to Fall in Love is a provocative love story for the digital age. The story opens when Cupid, the once-revered god of love, learns the heavens are downsizing and he will be let go. In the age of Tinder and online dating, his job is deemed expendable. Cupid manages to buy a little bit of time by asking for one more chance to show that he can orchestrate a love for the ages . . . but the clock is ticking. Will Cupid be able to prove his worth before it's too late?