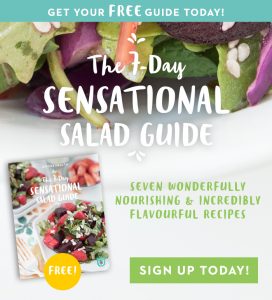 Joy McCarthy is a certified Holistic Nutritionist and founder of the hugely popular healthy living blog www.joyoushealth.com . She is the author of the Canadian bestselling book Joyous Health: eat and Live well Without Dieting. Her second book, Joyous Detox, comes out in December 2016.
I recently was sent a copy of the salad guide from Joy.  And since I am a figure athlete and I am in prep for a November show I have found it very useful in changing up my greens daily. The guide has beautiful pictures and the directions are easy to follow!
Get your free copy of Joy McCarthy's latest ebook, the 7-Day Sensational Salad Guide. It features seven all-new, exclusive recipes chock-full of superfoods, plant-based nutrition and all-around goodness! Something I know you probably appreciate.
Download your free copy at  http://www.joyoushealth.com/salad-guide/