Larabar Lemon - Add Zest To Your Life

What's Larabar?
Larabar was founded by Lara Merriken in May of 2000. She believed that food should be fun, enjoyable and good for you. She tinkered with recipes an d made her own Larabar bars. She discovered how natural foods enlivened her mind, body and spirit and wanted to share that with the world.
Trends have changed over the years and Larabar has become even more popular because people are actively seeking out foods that are not derived from artificial flavours, sugar or high sodium while they are still looking for great taste. The Lara bars are also gluten free, non-geo, dairy free, vegan and kosher! Each bar contains no more than 9 ingredients and they are minimally processes and as close to their natural state as possible.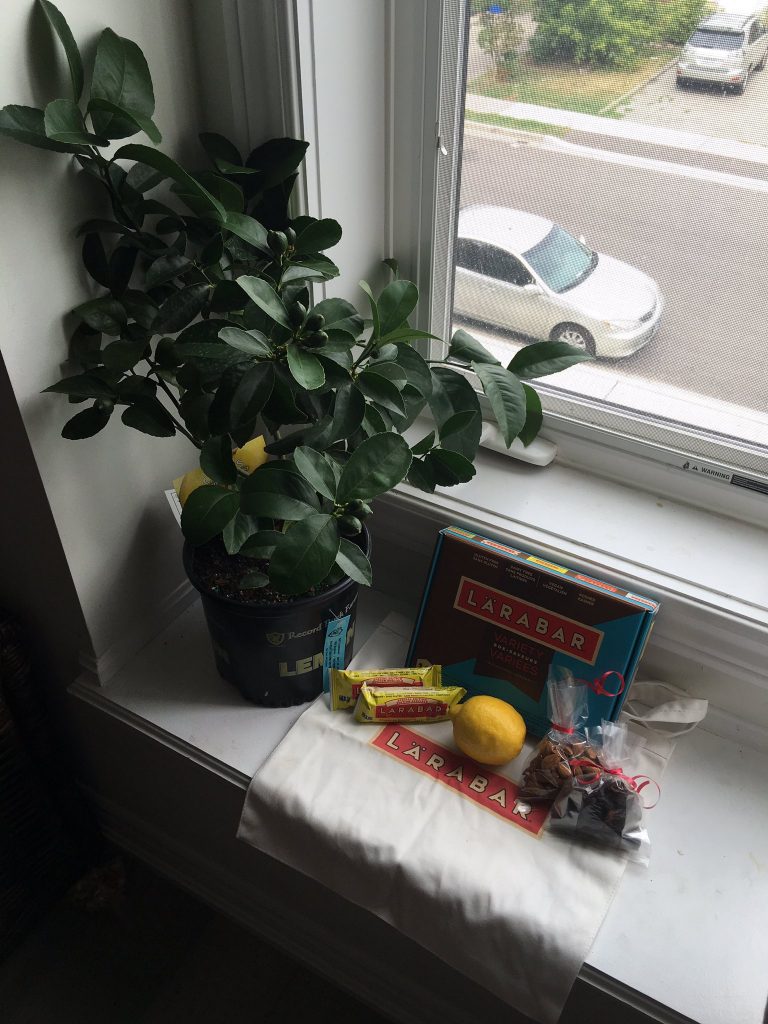 I came home last week and to my surprise there was not 1 but 2 packages at my door. I was lucky enough to receive not only the new special edition flavour of Larabar Lemon, but a sample box of flavours including cashew, peanut butter, apple, coconut cream, peanut butter chocolate chip, cocoa coconut chew, chocolate chip, chocolate brownie and blueberry. On top of the samples I also got my very own lemons and tree! This was a little confusing. There also was a bag of dates, cashews and almonds in the box.
Why were all these things included in my package? Why to make my own bars! Thats how little additive ingredients there are in Larabars that I can literally make my own lemon bar with just a food processor, parchment paper, rolling pin and a knife! How cool is that!
There was a little instruction card telling me to place all of the ingredients provided in a food processor and pulse until blended. Once the dough is formed put it into a disc with my hands and roll out between two pieces of parchment paper to my desired thickness. Then cut off excess edges and slice them into bars!
Thank you Larabar for sending me this amazing package. My lemon tree is now soaking up the sun in my living room window and my boyfriend and I are going to enjoy the delicious bars and our homemade zesty lemon bars!
The lemon is available for a limited time only in local grocery stores and online. To find out more about Larabar visit www.larabar.ca