Launch of generic brands for expensive oncology drugs improves treatment affordability and access in India, says GlobalData
The Central Drugs Standard Control Organization (CDSCO) has recently approved several generic versions of sunitinib to treat kidney cancer. Against this backdrop, the approval of generic brands of expensive oncology drugs will not only help in reducing the cost of these life-saving drugs but also improve access and adherence to treatment in the future, says GlobalData, a leading data and analytics company.
Krishna Srinivasaraghavan, Pharma Analyst at GlobalData, comments: "Expensive cancer diagnostics and treatment add to the economic burden in India, as major proportion of out-of-pocket healthcare expenditure is borne by patients. As a result, non-affordability and limited access to basic treatment account for higher cancer mortality rate in the country."
As per India's National Cancer Registry Programme, the estimated number of people living with cancer in 2020 was around 2.25 million, with over 1.16 million new cases being registered every year. Reportedly, cancer claimed 0.7 million lives in 2018.
According to GlobalData's Pharma Intelligence Center, 1,351 generic drugs are available in India for the treatment of different cancers, as of 26 February 2021.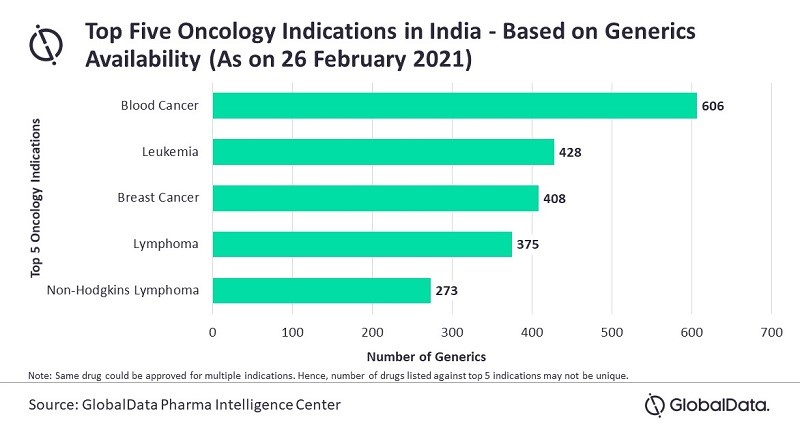 Glenmark Pharmaceuticals has recently launched Sutib, the generic version of sunitinib oral capsules to treat kidney cancer in India. Beta Drugs and Shilpa Medicare have also launched sunitinib generics with brand names 'Adsunib' and 'Sinishil', respectively. Other companies with sunitinib generics include Globela Pharma Pvt Ltd and SP Accure Labs Pvt Ltd.
In 2020, Zydus Cadila launched a generic brand of enzalutamide 'Obnyx' for prostate cancer (weekly therapy), reducing the monthly treatment cost by 70%. Several other companies too had launched enzalutamide generics in India. Similarly, the launch of dasatinib generics reduced the monthly treatment cost for chronic myeloid leukaemia (CML) and acute lymphoblastic leukaemia (ALL) by more than 96% compared to originator brand drug.
Mr Srinivasaraghavan concludes: "Landmark verdicts in Novartis' Gleevec case and Bayer-Natco cases are examples where the Indian law and regulatory norms encouraged generic versions of the expensive medicines to be available and accessible to patients at an affordable price, at the earliest possible time. Such examples will significantly favor Indian patients."
ENDS
For more information
To gain access to our latest press releases: GlobalData Media Centre
Analysts available for comment. Please contact the GlobalData Press Office:
EMEA & Americas: +44 (0)207 936 6400
Asia-Pacific: +91 40 6616 6809
Email: pr@globaldata.com
To gain access to our latest press releases and expert analysis on developments in your industry, please connect with us on:
GlobalData | LinkedIn | Twitter

Notes to Editors
Comments provided by Krishna Srinivasaraghavan, Pharma Analyst at GlobalData
This press release was written using data and information sourced from proprietary databases, primary and secondary research, and in-house analysis conducted by GlobalData's team of industry experts
About GlobalData
4,000 of the world's largest companies, including over 70% of FTSE 100 and 60% of Fortune 100 companies, make more timely and better business decisions thanks to GlobalData's unique data, expert analysis and innovative solutions, all in one platform. GlobalData's mission is to help our clients decode the future to be more successful and innovative across a range of industries, including the healthcare, consumer, retail, financial, technology and professional services sectors.