Lithuania Ranks Amongst Top 40 of World's Most Prosperous Countries Thanks To Outstanding Nature and Wellbeing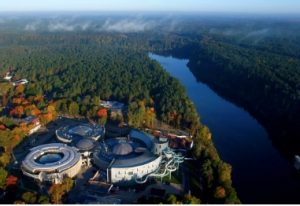 With its pine forests, freshwater lakes, and one of Eastern Europe's oldest SPA towns, Lithuania has become a country renowned for its well-being attributes
December 10, 2018: In the 12th edition of the annual global Prosperity Index by the Legatum Institute think tank - which bases its findings on over 100 variables, such economic strength and the quality of natural surroundings - Lithuania ranked 36th from 149 countries. The winning factor for Lithuania was its outstanding natural environment.
The importance of nature in one's happiness is scientifically proven - according to a recent study, by connecting with nature, an individual's happiness increases by 30%.
Despite the country's relatively small size, 33% of Lithuania's territory is covered in forests, while the rest is home to hundreds of freshwater lakes. The coastline on the Baltic Sea is dominated by sand dunes and white sand beaches.
Nature in Lithuania is a part of the lifestyle, and its people are especially close to it - perhaps due to the country's heritage as the last pagan country in Europe, where people still worshipped nature long after Christianity was introduced.
Today, lakes, beach and forests are the preferred summer vacation or weekend choices, and throughout the year many like to spend their time off in one of local wellness and SPA towns, known for their healing therapies.
For example, the SPA town of Druskininkai has been recognized for its healing mineral waters and mud treatments since the 18th century. It is now a modern SPA town with centuries-old traditions, offering therapeutical and beauty SPA treatments. It is surrounded by a huge pine forest, making it a popular location for those looking for some forest therapy, clean air or bicycle paths. The largest waterpark in the Baltic region, Aquapark, can also be found in Druskininkai, and its Wellness Center (Gydykla) dates back to 19th century and preserves the oldest mud and mineral water therapy traditions.
A fine example of Lithuania's impressive forests is the Labanoras Regional Park, an hour drive away from the capital, which is home to some of the country's oldest trees. Spanning almost 528-square kilometres and peppered with almost 300 freshwater lakes, it is popular during summer months amongst campers, kayakers, swimmers, and hikers. Hiking in Labanoras is popular also in the winter -  guides can take visitors to some of its most remote parts for an experience of wilderness and nature's tranquility.
The summer resort of the Nida, surrounded by sand dunes, sea, lagoon and pine groves is another natural Lithuanian treasure. It is bordered by the Curonian Lagoon on one side, and wide sandy beaches of the Baltic Sea are on the other side. The Curonian Spit, a peninsula where Nida is located, is a UNESCO heritage site. This undiscovered natural jewel is becoming increasingly popular amongst international visitors during summer months.
Even the capital of Lithuania, Vilnius, is considered to be one of Europe's greenest and happiest cities - Vilnius rankedamongst Europe's happiest capitals in 2016. Its citizens are also some of the very few groundwater drinkers on the continent due to the local water's purity.
With a population of just three million, Lithuania is quickly gaining a reputation for being a European wellness and good-living hub in recent years. Fast-growing economy also contributes to the country's happiness index, which is bound to keep climbing as the economy grows.
For more information or high-res images please contact Raminta at raminta@blueoceanspr.com.
ABOUT DRUSKININKAI
Druskininkai is Lithuania's biggest SPA town, known for its unique combination of underground mineral waters, curative mud and surrounding pine tree forests that provide extremely clean air. The medicinal properties of Druskininkai mineral water were discovered in the 18th century and the town was declared a health resort by king's decree. The wellness traditions of Druskininkai have been developing throughout centuries. The concept of medical SPAs emerged during Soviet times and has been modernized since Lithuania gained its independence. Medical SPA is a hotel-style wellness center, where doctors assign certain healing procedures that might involve special mineral or whirlpool baths, massages, physiotherapy, mud treatments, aromatherapy and many others. Medical SPAs, as well as regular SPAs of Druskininkai also offer regular beauty treatments and massages. The town of Druskininkai has many activities for the whole family. It boasts the biggest AquaPark in the region, year-round Snow Arena, an adventure park, multiple parks and bicycle trails. It offers rich gastronomical experience, museums, various cultural events and festivities throughout the year.