LOLË WHITE TOURTM MAKES HISTORY WITH CENTRAL PARK EVENT UNITING CLOSE TO 10,000 YOGIS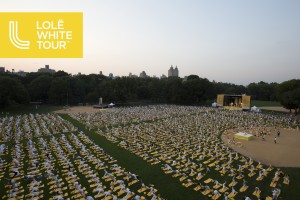 New York Stop Comes After Memorable Kick-Off at Paris's Eiffel Tower and Sessions in Montreal and Toronto
September 3, 2015, NEW YORK – Yesterday, the 2015 Lolë White TourTM reaches the apex of its lineup with a spectacular outdoor class uniting close to 10,000 yoga-lovers in the heart of New York City. This once in a lifetime session in beautiful and historic Central Park is the penultimate stop in this year's series of unforgettable events around the world organized by women's activewear and lifestyle brand Lolë and presented by FIJI Water.
This inspiring group of thousands of participants, dressed all in white as a symbol of peace, gathered to experience a unique evening of pure serenity against the backdrop of one of the world's most recognized locales. From 4:30pm to 10pm, Central Park's breathtaking Great Lawn was home to this singular yoga event led by three of the world's most influential and beloved instructors – Elena Brower, Colleen Saidman Yee and Rodney Yee – and set to the strains of live music from artists Ingrid Michaelson and special guest Donna De Lory.
"This unprecedented gathering of yoga lovers here in one of the world's greatest parks, all practicing together in nature, created a flow of communal energy that was breathtaking and magical," said Bernard Mariette, President and CEO of Coalision, which owns Lolë. "I had the feeling of being a part of a family of 10,000 people all sharing the same sense of peace and gratitude."
This New York session is a highlight of the brand's 2015 season, representing the Tour's largest event and coming on the heels of the opening of the Lolë Atelier New York in the famous SoHo shopping district. Each of the five events on this year's Tour is a transformative and invigorating experience for body and soul, guided by world-class yoga instructors and set to live music performed by international artists. Having begun with an extraordinary kick-off session under the Eiffel Tower in Paris, continuing onto the brand's hometown of Montreal and then Toronto, and now landing in New York, the Tour will culminate with a more intimate yet equally momentous session on the iconic Santa Monica Pier later this fall.
"From Paris to New York and beyond, the global scope of the Tour – which this year brings together over 25,000 yoga enthusiasts in cities worldwide – reflects the energy of Lolë's exhilarating international expansion," added Bernard Mariette. "Next year's event in Cambodia will bring our message to a truly universal stage, affirming our dedication to the boundary-erasing power of yoga, meditation, and inner peace."
The annual Lolë White Tour was launched in 2012 with the goal of building a global wellness movement. Since then, Lolë has united over 50,000 yoga lovers around the world, bringing top yoga talent together with local communities to practice in inspiring, emotionally uplifting locations. The Tour has become renowned in the wellness space for promoting personal connections, community involvement, and the opportunity to experience the exceptional – and will continue doing so with an highly anticipated Cambodia event in 2016, the Tour's first ever visit to Asia.
---
About Lolë:
Lolë nurtures the body and mind with fun, feminine, and beautifully designed activewear that's stylish enough to transition instantly from the studio to the street. Designed for today's active urban woman, Lolë collections truly reflect a modern lifestyle, and turns consumption into investment by offering long-lasting, versatile clothing with real value. Lolë stands for Live Out Loud Everyday.