Lost It? Find It? - TrackR
I was browsing through Best Buy Canada and I came across this little white box that caught my eye. It read: Lost It? Find It? - TrackR. Since I am always on the go in and out of gyms, clients homes, track and field facilities, my car and constantly traveling to different locations for meetings I am always loosing things. So the idea of the TrackR is perfect for me.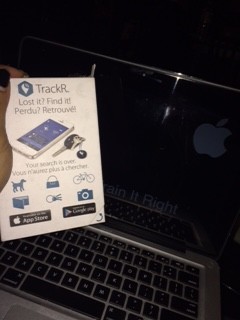 This little guy can be attached to your phone, put on your keys, on your bicycle, in your wallet or any electronic device that you use on a day to day basis. It can be 3M adhesively attached to any device. It can also be tied to a keychain, back pack or even your dog.
Once you download the software/app and set up your account (which is very easy) you are good to go. The app is compatible with:
Iphone 4S Or Later
IPad with retina display or IPad mini or later
iOS 7 and later
Android 4.4 and later
Once you realize that you have lost whatever item your TrackR is attached to press your TrackR device button to ring. Even if you phone is on silent you will find it! What a great idea! Also if you log into the app you can ring your item and find it whevever it may be. If you still don't hear the ringer it has a GPS where you can see the location of the item. It also comes with a one year warranty.
The TrackR is definitely TRAIN IT RIGHT Approved! Grab yours HERE.