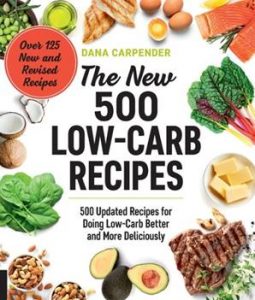 Since its publication over 15 years ago, 500 Low-Carb Recipes has become a classic in the low-carb community, earning author Dana Carpender the affectionate moniker "low-carb queen" from her fans. The book is now a bestseller, with over half a million copies sold.
Low-carb cooking has evolved. A decade ago, low-carb menus relied on ingredients like artificial sweeteners, unhealthy vegetable oils, protein additives, and processed foods from grocery store shelves, like low-carb branded snack bars and packaged meals. Today's low-carb cooking is influenced by larger food movements, such as clean eating; farm-to-table ingredients; higher fat ratios, thanks to the popularity of ketogenic diets; and less stigmatization of foods that have substantial inclusion in a low-carb diet, namely animal foods and saturated fat due to the growth of the Paleo and traditional foods movements. The New 500 Low-Carb Recipes is the beloved cookbook updated for today's low-carb movement.
If you've been getting bored with your low-carb diet, this is the book for you. No longer are you confined to plain chicken breasts with a side of broccoli. You'll find dozens of exciting ways to vary a hamburger, a steak, pork chops chicken, and fish. You'll find a wide variety of side dishes and salads and even breads, not to mention muffins, waffles, pancakes, and granola. In short, this book has recipes for all sorts of things you never dreamed of, including:
Artichoke Frittata
Country Scramble
Gingerbread Waffles
Asian Ginger Slaw
Cajun Chicken Salad
Pork Piccata
Feta-Spinach Salmon Roast
Grasshopper Cheesecake
And many more!
Dana Carpender (Bloomington, Indiana) is a pioneer of the low-carb movement and best-selling author of over 14 cookbooks, including The New 500 Low-Carb Recipes, 1001 Low-Carb Recipes, 500 Paleo Recipes, 15-Minute Low-Carb Recipes, The Low-Carb Diabetes Solution Cookbook, 200 Low-Carb, High-Fat Recipes, The Low-Carb Diabetes Solution, The Insulin Resistance Solution, 500 Ketogenic Recipes, and many more. To date, her books have sold over a million copies worldwide. She writes about low-carb cooking and nutrition on her Facebook page, Dana Carpender's Hold the Toast Press.
THE NEW 500 LOW-CARB RECIPES
By Dana Carpender
Publishing: January 8, 2019
$22.99 US · $29.99 CAN · 336 pages · Trade Paperback
ISBN: 9781592338634
Fair Winds Press, an imprint of The Quarto Group