MANAGING CURLS!!??The DOUX is A MUST DO! 
New Hot Hair Care Line Drops at Target THIS Christmas Eve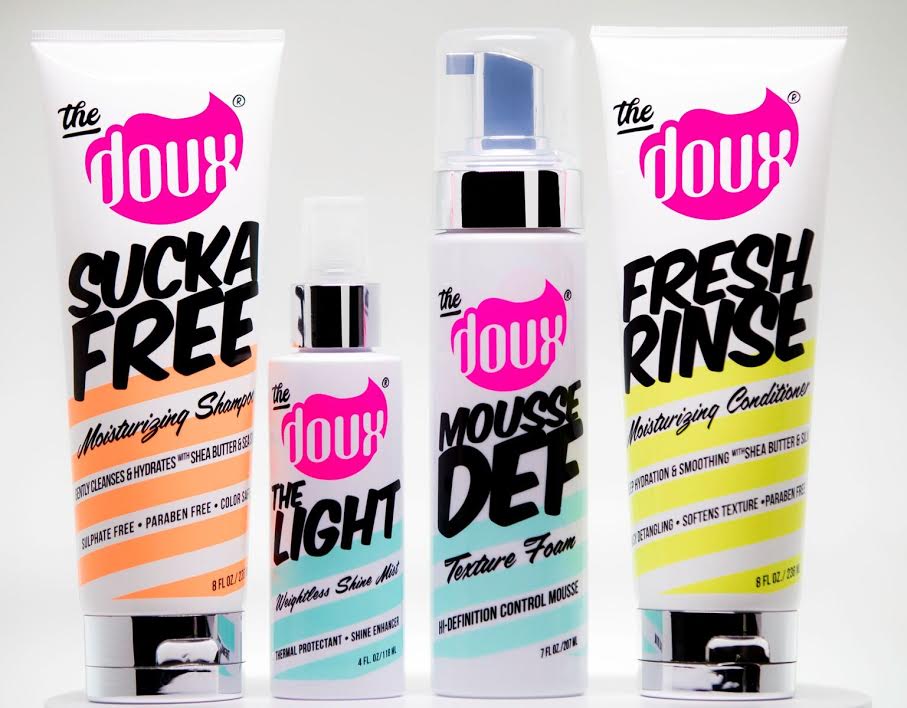 Get ready to "drop the mic" on the beauty aisles at Target stores this December. The Doux® (pronounced The Do) is a "new school" modern hair care system with an "old school edge." With packaging that is bold and bright and product titles inspired by 90's hip hop, The Doux is poised to kill it with those seeking a way to smoothing curly, kinky, and wavy hair into both, curly or straight styles.
Created by Maya Smith, a 25-year celebrity stylist and International Curl Master, The Doux was first launched in Europe in 2011 in response to her passion for helping people master the hair they were born with. STRAIGHT, NATURAL, CURLY, or RELAXED, according to The Doux, if you grew it, it's ALL GOOD. "I was living in Germany at the time, had my own salon there and my specialty was helping clients to transition to a relaxer-free lifestyle. I'm obsessed with people maximizing the potential of the hair they were born with. Mastering curls is my passion and purpose," explains Smith.
The people felt her passion through her products. The Doux blew up overseas so much so that it caught the attention of media in the USA. "Once we started getting press in the states the demand for The Doux was incredible. I had to return to the states and see this vision through," Maya Smith explains. In 2014, Maya opened The DOUX Salon™ in Macon Georgia's historic Downtown district and started selling her professional grade products at her salons and on-line.
Fast-forward three years and a lot of work and dedication, The Doux will arrive in Target stores, on Christmas Eve; no easy feat for an indie brand. "We are so excited to bring The Doux to the masses. It's 20 years in the making. We listened to 20 years of feedback from actual clients from Minneapolis to Morocco. We listened to what people wanted, a salon grade, high quality product that delivered on its promises. Helping people to manage and maintain their natural hair and celebrate their own bold, unique style is what the last 25 years of my professional life has been about," Maya Smith shares.
The Doux also redesigned its packaging, with the intention to disrupt the category. It's bold with bright colors, which is the opposite of the more subdued look you see on the shelves currently. "I'm a fan of 90's rap so I wanted to incorporate lyrics and titles in the packaging," adds Smith. With titles such as Bonita Afro Balm, Mousse Def, Sucka Free, Fresh Rinse, and The Light, The Doux will most definitely catch the eyes of Millennials and Gen X'ers alike.
THE PRODUCTS
Shampoo and Conditioner 
*SUCKA FREE™ Moisturizing Shampoo,  *FRESH RINSE™ Conditioner
Sulphate & Paraben-free Shampoo and Conditioning Duo with Shea Butter & Sea Silk. A gentle cleansing system for thick, dry, or color-treated hair. Ultra-hydrating conditioner has amazing slip for easy detangling. Sea silk smooths the cuticle, leaving hair frizz-free and full of body. MSRP: $12.99 each.
Stylers:
*BONITA AFRO BALM™ Shine Enhancing Texture Cream Delivers shine and manageability for pixies, Afro's, tapered cuts, and twist/braid/coil sets. Certified organic botanicals, alcohol & paraben free. MSRP: $15.99.
*MOUSSE DEF™  Texture Foam Non-flaking mousse gives definition to curly styles without stiffness, cloudiness, or crunch. Soy proteins and natural humectants make this humidity-resistant styling aid ideal for thermal styling as well. MSRP: $14.99
*THE LIGHT™ Shine Mist Preserves color and protects hair from heat styling. Reduces drying time and delivers weightless shine to finished looks. Adds natural luster to natural styles. Infused with Black Cacao, Passion Fruit, and Palm Oil. MSRP: $14.99.