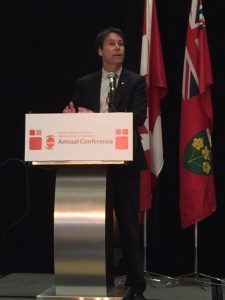 Minister Hoskins affirms his $85 Million Funding Commitment to Primary Care Teams over the Next Three Years
TORONTO, Sept. 23, 2016 /CNW/ - Nearly 4 million Ontarians are now being served by inter-professional health care teams such as Community Health Centres, Nurse Practitioner Led-Clinics, Aboriginal Health Access Centres and Family Health Teams. However today, nearly 1 million people in Ontario are still unable to find a nurse practitioner or family physician for regular health care.
Minister Hoskins reaffirmed the government's commitment of $85 million in team-based primary care at Nurse Practitioners' Association of Ontario's 43rd Annual Conference held in Toronto today. This commitment is retroactive to April 1 of this year, and includes increases in benefits and wages. The Minister stated that the money is expected to flow within weeks.  It is among his key results highlighted in his Mandate letter received today from Premier Wynne.  Implementing this commitment will be vital to the Minister's ability to fulfill his renewed mandate to ensure that everyone in Ontario who wants a primary care provider is able to access one.
"On behalf of the people we serve, this investment is critical," says Theresa Agnew, NPAO Executive Director. "It means patients won't end up in an emergency department unnecessarily or a walk-in-clinic. Primary care is the front door of the health care system. This will stop it from becoming a revolving door by ensuring continuity of care, recruitment and retention of staff. Ontarians will receive primary care in their own communities by the right health care provider at the right time close to home. It puts patients first."
"This new funding demonstrates government's commitment to strengthen primary care as the foundation of Ontario's health system," says Angie Heydon, CEO, Association of Family Health Teams of Ontario. "This funding is an urgently-needed first step toward putting interprofessional primary care teams onto more equal footing, to attract and keep the skilled professionals needed to deliver better care, better health and better value for Ontarians."
"We are very heartened that the Government is stepping in the right direction to correct a serious imbalance in improving access to interprofessional primary health care.  This funding is crucial to enable Ontario to do a better job ensuring people who face barriers to health can access the services they need from interprofessional teams." says Adrianna Tetley, CEO of the Association of Ontario Health Centres.
NPAO is the professional voice for 3,000 Nurse Practitioners in Ontario. Our mission is to achieve full integration of Nurse Practitioners to ensure accessible, high quality health care for all.
AFHTO provides leadership to promote high-quality, comprehensive, well-integrated interprofessional primary care for the benefit of all Ontarians. It is the advocate, resource and network for 181 Family Health Teams and 5 Nurse Practitioner-Led Clinics, and welcomes all who provide interprofessional comprehensive primary care in Ontario.
AOHC is Ontario's voice for community-governed primary health care.  It represents 108 community-governed primary health care organizations, including Ontario's Community Health Centres, Aboriginal Health Access Centres, Community Family Health Teams and Nurse Practitioner-Led Clinics.