My New Monster iSport Wireless Headphones from @bestbuycanada @monster_canada - Train It Right
I have been needed a new pair of headphones for working out for quite some time. When I saw the Monster Isport headphones on the bestbuy website I knew that they would be great for me! They were wireless, which meant that there was no cord to get in the way when I was lifting, running, jumping or just commuting. My life is so hectic and I am always on the go so these would be perfect for working out and my life in general.
They arrived quickly and I soon put them to work! First of all I was so impressed by the sound quality. I have had a lot of different head phones over the past years but these are by far the BEST SOUNDING headphones that I have ever had for working out! Secondly they did not fall off during my high intensity workouts or even when I was doing cardio!  I never had to adjust them and obviously there were no cords in the way. I also was particularly impressed how quick they pair to my devices and I like the option of being able to switch songs right on the headset. I literally never have to touch my iPod or phone once they are paired to change a song. According to the site they are good for up to 10m paired but I am sure that I have gone further from my iPod and they have still worked! Also the charge lasts forever. It's been a week and I still haven't had to recharge them. Im sure the time is coming soon. They are suppose to last up to 30 hours of continuous play.
Although the headphones are great. You all know that my favourite colour is pink! I wish that they came in pink then I would be the happiest girl in the world. The green is growing on me. I like that it is bright. It's still taking some getting use to having something in this colour.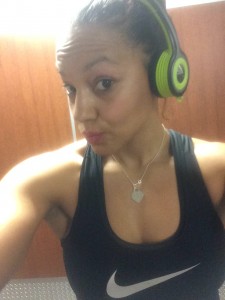 More details on the headphones:
Overview
Break a sweat with the Monster Bluetooth iSport headphones. Get classic Monster sound with booming bass and crystal clear ranges delivered through powerful 40mm drivers, on a wireless design that lets you run, skip, jump and play for over 30 hours without getting tangled in cords or dead batteries.