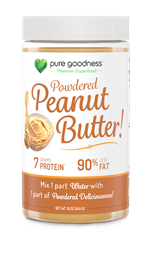 If you don't have a peanut allergy, most likely, you enjoy peanuts! Peanuts are often times the go to for vegetarians and vegans as well, as they offer a great source of protein. However, if you aren't careful you will find that your waistline will start expanding from eating the peanuts. Most of us love the flavor of peanut butter, but we have to be so careful. That is why, I was so excited when Pure Goodness asked me to try out their Powdered Peanut Butter. So here are a few fun facts about the product:
- Powdered Peanut Butter has 7 grams of protein
-Powdered Peanut Butter has 90% less fat than other products... How? They make their product by slowly roasting quality peanuts, gently pressed to remove 90% of fat.As all of you know, I'm on prep and preparing for my competition so I have to really watch what I eat and intake. Though I absolutely loved this product (it's so easy to make it as a spread as well), all you have to do is add water (be careful with adding the water, the amount of water you add should be based on the consistency, texture that you want) and mix/stir to get the consistency that you want, I couldn't really fully enjoy it because of the carbs.
Right now, I'm entering the part of my prep where I'm low carving, which for me is virtually no carbs, so I can't really eat this product.However, I would suggest this to anyone that loves peanut butter, but doesn't want all of the fat.
What I love about this company though, is their commitment to ending hunger! Their mission is to provide meals to children in need, a cause I too am interested in!
Overall, I would definitely recommend this product. It taste great and it's a great, healthy option for someone that is health conscious! Give them a try and visit their website www.mypuregoodness.com. The Powdered Peanut Butter is currently sold out, but check back frequently to see when they have more in stock. They also offer other amazing products that are worth a try! Check them out today!