New App Created to Increase Self-Esteem and Productivity for Millions of ADHD Kids and Families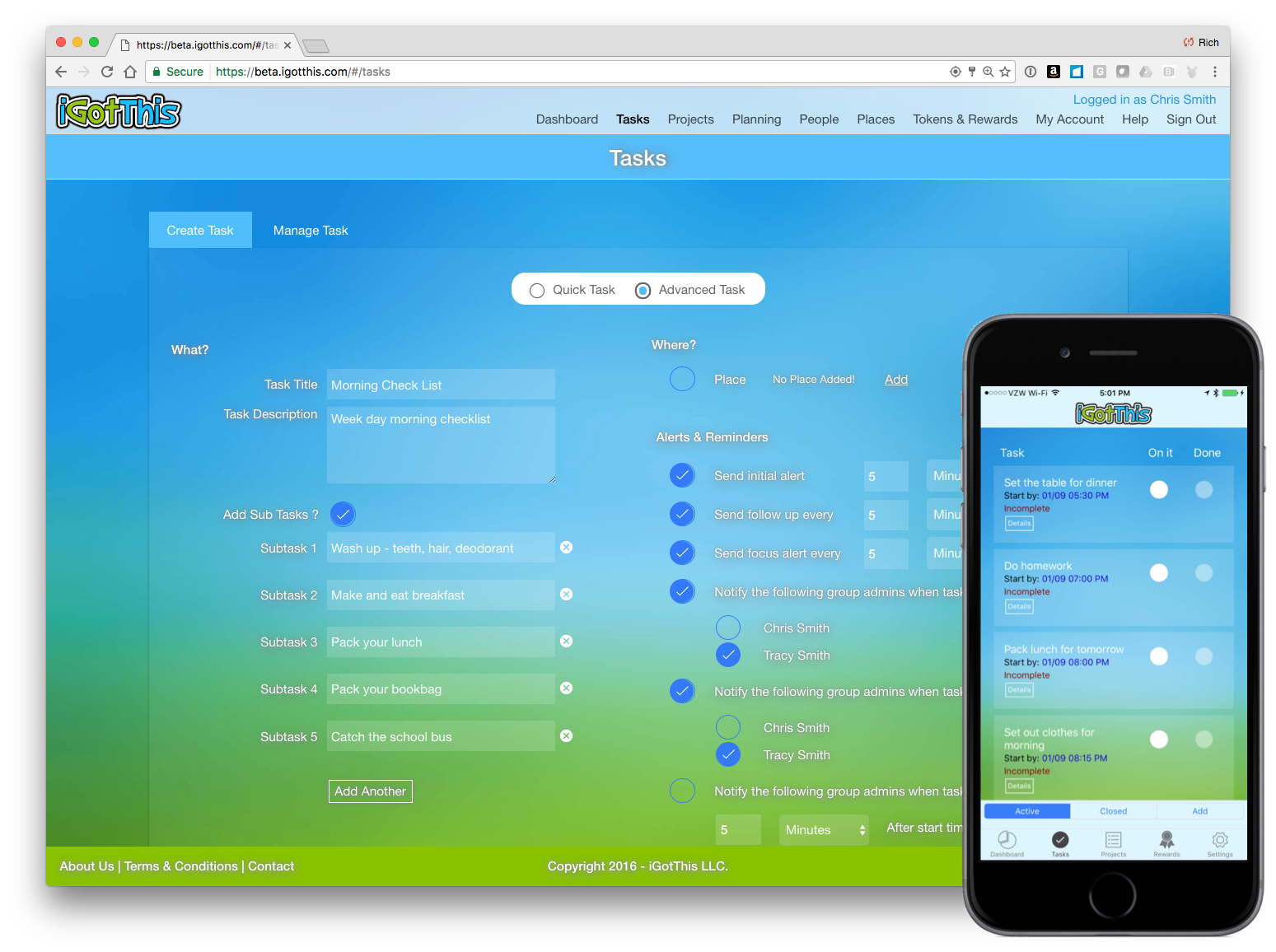 WHO: 4 Million of US Children Who Have ADHD
WHAT: New Task-Focused, Life-Management Solution for ADHD Families Created Called iGotThis
WHEN: March 6th to April 6th Kickstarter Campaign
WHY: It's no wonder that kids with ADHD are more likely to have low self-esteem – sometimes pathologically low. Repeated failures wear away self-esteem, as does being told that something is "wrong" with you. The truth is that ADHD is simply a byproduct of being extraordinary, but their kids are judged by the expectations of an ordinary world.
iGotThis turns the tables on self-esteem and productivity issues with these extraordinary kids. It is a task-focused, life-management solution uniquely designed for ADHD families that builds self-esteem by ensuring repeated success. It's loaded with features to keep kids with ADHD on track, focused, and motivated - all while providing real-time visibility and complete control for parents. It provides:
Repeated successes with its unique failsafe reminder system
Motivation through a customizable rewards feature
Positive reinforcement with game dynamics
Inspirational Messaging about ADHD
Real-Time, remote oversight to parents
The solution also features web and mobile dashboards, location based reminders, comprehensive task customization, optional project tracking and checklists and planning wizards for parents. Easy to use walkthroughs and video tutorials help everyone get the most of the solution from the first day.
But iGotThis is more than an app- it's also a community and a mission. iGotThis provides forums and resources that let users share, teach and learn, support and be supported. As part of its mission, iGotThis is providing public outreach to change the way the world views ADHD and those extraordinary people who have it.
It's so important to build self-confidence and remind those children that ADHD is not a deficiency, it's a gift. iGotThis helps them learn valuable skills and creates habits that will help them succeed, and build their self-esteem so they can one day have the confidence to enter the world as adults.
Back the project on the Kickstarter page between March 6th and April 6th to help fund finishing the app and you will become one of the "Founding Families" of iGotThis. These families will enjoy lower prices, additional rewards, privileges and recognition.
Users will sign up at the iGotThis.com web site and the app will be available to download in the Apple (NASDAQ:AAPL) App Store and the Google (NASDAQ:GOOGL) Play store upon release.