New Canadian investments in ALS research reflect growing knowledge about the disease and increasing likelihood of effective treatments being developed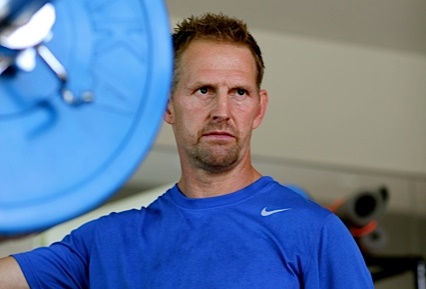 ALS Canada and Brain Canada award $4.5 million in research funding; nearly $20 million
invested in ALS research in Canada since 2014's Ice Bucket Challenge
The ALS Society of Canada (ALS Canada), in partnership with Brain Canada, today announced $4.5 million in funding for nine new ALS research projects. This means that since the Ice Bucket Challenge became a social media phenomenon in 2014, nearly $20 million has been invested in Canadian ALS research at a time when it has the potential to make the greatest impact.
ALS, or amyotrophic lateral sclerosis, is a disease that gradually paralyzes the body, leaving people without the ability to move, talk, swallow and eventually breathe. Most people die within two to five years of being diagnosed with ALS because the disease has no effective treatment or cure. However, ALS research has advanced to a point that many ALS research experts believe effective treatments are now a matter of 'when' not 'if.'
"We hear often from people and families living with ALS that the promise of research discovery is something they can be hopeful about. The challenge is that research takes time, which is exactly what people living with ALS don't have – and why the Ice Bucket Challenge has been such a game-changer," said Tammy Moore, CEO of ALS Canada. "Because of the increased funding that the Ice Bucket Challenge has made available, we have been able to make more significant research investments than ever before. We are grateful to Canadians who donated to the Ice Bucket Challenge, to our ALS Society partners across the country and to Brain Canada and the federal government's Canada Brain Research Fund for making this research investment possible."
"Brain Canada's partnership with ALS Canada has enabled greater investment in ALS research, which will in turn accelerate progress towards the development of effective treatments," said Inez Jabalpurwala, President and CEO, Brain Canada Foundation. "In addition, the discoveries that will result from this research funding have the potential to inform how we approach other neurodegenerative diseases with similar underlying mechanisms."
The nine projects include two large-scale, multi-year team initiatives – one of which is using stem cell technology to better understand and potentially treat ALS, while the other is studying in a new way the gene most commonly linked to ALS development – and seven smaller studies that enable investigators to explore out-of-the-box research.
"Five years ago, the breadth of ALS research we are funding today would not have been possible simply because we didn't know enough about the disease to be able to ask the kinds of questions that today's researchers are investigating in their work," said Dr. David Taylor, Vice President of Research at ALS Canada. "The fact that we now have the ability to explore ALS from different angles reflects the growing body of knowledge about the disease and the increasing likelihood of effective treatments being developed."
A research team led by Dr. Guy Rouleau of McGill University and the Montreal Neurological Institute has been awarded $2.2 million to study motor neurons and astrocytes created from people living with different forms of ALS via stem cell technology. Dr. Rouleau and his team, which includes other collaborators at McGill University and the Montreal Neurological Institute as well as Université de Montréal and Université Laval, will study the biology of these stem cells to determine if their characteristics in the laboratory can represent different forms of human disease and further develop them as a potential screening mechanism for therapeutics. The tools and tests created in this project will be valuable for both Canadian and global ALS researchers as new resources to understand the disease and find new ways to treat it.
A research team led by Dr. Janice Robertson of University of Toronto has been awarded $1.6 million to understand whether the most common genetic abnormality in ALS, which occurs in the C90RF72 gene, causes or contributes to the disease through a loss of the gene's normal biological function. The majority of the research community is focusing on how the genetic abnormality in C9ORF72 might lead to an extra, toxic function, but in this five-year study, the team – which includes other collaborators at the University of Toronto as well as Sunnybrook Health Sciences Centre, McGill University and the Montreal Neurological Institute, and the University of British Columbia – will comprehensively analyze the potential damage to motor neurons lacking C9ORF72, and examine if both loss and gain of function mechanisms combine to cause ALS. This knowledge could fundamentally alter how therapeutics are developed for common forms of ALS as well as frontotemporal dementia (FTD), which often occurs with ALS.
Other projects that have been awarded $100,000 each in funding are:
Dr. Gary Armstrong at the Montreal Neurological Institute and McGill University is using a state-of-the-art technique in genetic manipulation to create new zebrafish models of ALS for the most prominent genetic cause of the disease, which relates to mutations in the C9ORF72 gene.
Dr. Neil Cashman at the University of British Columbia is using a unique fruit fly model to study whether a key toxic ALS protein can leap between neurons to explain spread of disease throughout the body.
Dr. Charles Krieger at Simon Fraser University is studying a substance called adducin that is critically linked to health at the site of connection between motor neurons and muscle, in order to understand whether this substance might represent a target for treatment to slow the progression of ALS.
Dr. Éric Lécuyer at Université de Montréal is using a unique set of scientific tools to comprehensively analyze the contents of key structures in ALS called stress granules.
Dr. Marlene Oeffinger at the Institut de recherches cliniques de Montréal is studying structures called paraspeckles to understand their content and how they function, as well as how they are altered in neuronal cells that have ALS-causing mutations.
Dr. Alex Parker at the Université de Montreal is undertaking a study to understand how probiotics slow down the progression of ALS symptoms in worms.
Dr. Lisa Topolnik at the Centre Hospitalier de l'Université Laval will study how certain neurons called interneurons, which connect to motor neurons in the brain, might be implicated in the early stages of ALS.
All of the research projects  were selected through a competitive peer review process, regarded as the international benchmark of excellence in assessing projects for research funding. The peer review process engages a panel of international experts in ALS and other neurodegenerative diseases in evaluating and ranking all proposed research projects based on their scientific merit and on the potential to most quickly advance the field of ALS research in order to develop effective treatments. All aspects of the peer review process are executed in full partnership with Brain Canada, whose funds are provided through a partnership with Health Canada known as the Canada Brain Research Fund.
Approximately 1,000 Canadians are diagnosed with ALS each year. At any time, there are approximately 2,500 to 3,000 people living with the disease in Canada, and the average cost of caring for one person with ALS is between $150,000 and $250,000. Every day, two to three Canadians will die of ALS.
About Canada's ALS Societies
ALS Societies across Canada fundraise on a regional basis to provide services and support to people and families living with ALS and to contribute to the funding of the ALS Canada Research Program. The ALS Canada Research Program funds peer-reviewed research grants and fosters collaboration amongst Canadian researchers, helping to nurture new ideas and build capacity. ALS Societies advocate federally, provincially and locally on behalf of people and families living with ALS for better government support and access within the healthcare system.
About Brain Canada and the Canada Brain Research Fund 
Brain Canada is a national non-profit organization headquartered in Montreal, Quebec, that enables and supports excellent, innovative, paradigm-changing brain research in Canada. For more than one decade, Brain Canada has made the case for the brain as a single, complex system with commonalities across the range of neurological disorders, mental illnesses and addictions, brain and spinal cord injuries. Looking at the brain as one system has underscored the need for increased collaboration across disciplines and institutions, and a smarter way to invest in brain research that is focused on outcomes that will benefit patients and families. Brain Canada's vision is to understand the brain, in health and illness, to improve lives and achieve societal impact.
The Canada Brain Research Fund is a public-private partnership between the Government of Canada and Brain Canada, designed to encourage Canadians to increase their support of brain research, and maximize the impact and efficiency of those investments. Brain Canada and its partners have committed to raising $120 million, which is being matched by Health Canada on a 1:1 basis for a total of $240 million.  For more information, visit www.braincanada.ca. 
SOURCE ALS Canada