New Edition of The Past Life Perspective Available for Holiday Pre-Order
This intriguing book and associated guided recording demonstrate the power of past life therapy to enhance effectiveness in your current life.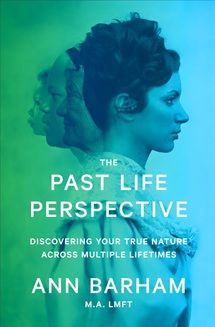 A new wave of readers will have access to a powerful tool for personal healing and spiritual growth as Ann C. Barham's The Past Life Perspective prepares for a softcover print run on December 4, 2018.
This moving collection of case studies, drawn from Barham's own client sessions, leads readers through the process of mining one's unconscious memories from prior lifetimes in order to resolve issues and deepen their understanding of their current life. Suggested exercises at the end of each chapter help readers expand their awareness of their own past lifetimes and broaden their spiritual perspective.
"I was awed by how many readers reached out to say this book helped them on their journey of self-discovery," said Barham. "That's why I'm so excited for this new print run and the guided meditation I prepared to deepen people's understanding of the process and allow some exploration on their own."
The Past Life Regression Guided Recording is similar to what one would experience in a large group session at a workshop, and is ideal for anyone who is curious about the method after reading the book.
It begins as a guided meditation to help listeners enter a state of deep relaxation. Here they have the opportunity to glimpse the personality and key events of a prior lifetime and are shown how to process these moments.
This Guided Recording runs around 40 minutes and is available for download at https://www.pastlives.org/book/past-life-regression-guided-recording.
The Past Life Perspective can also be pre-ordered now at Amazon, Barnes & Noble, and BAM! Books a Million for holiday gifting before it hits bookstore shelves on December 4, 2018.
About
Ann C. Barham is a Marriage & Family Therapist licensed in the State of California, and a Certified Regression Therapist with the International Board of Regression Therapy. After a traditional counseling practice, she has focused on past life regression work for over 20 years, after receiving training from some of the world's foremost experts in the field, Dr. Brian Weiss and Dr. Roger Woolger. She has appeared on national television such as CBS' The Doctors, and many nationwide radio programs, as an expert and spokesperson for the effectiveness of past life work to evoke rapid, enduring change in people's lives.