NordicTrack Unveils VAULT™ the Complete Fitness Mirror Powered By iFit Interactive Training
VAULT unlocks traditional strength training at home with a suite of premium fitness gear, stealthily stored behind its sleek mirror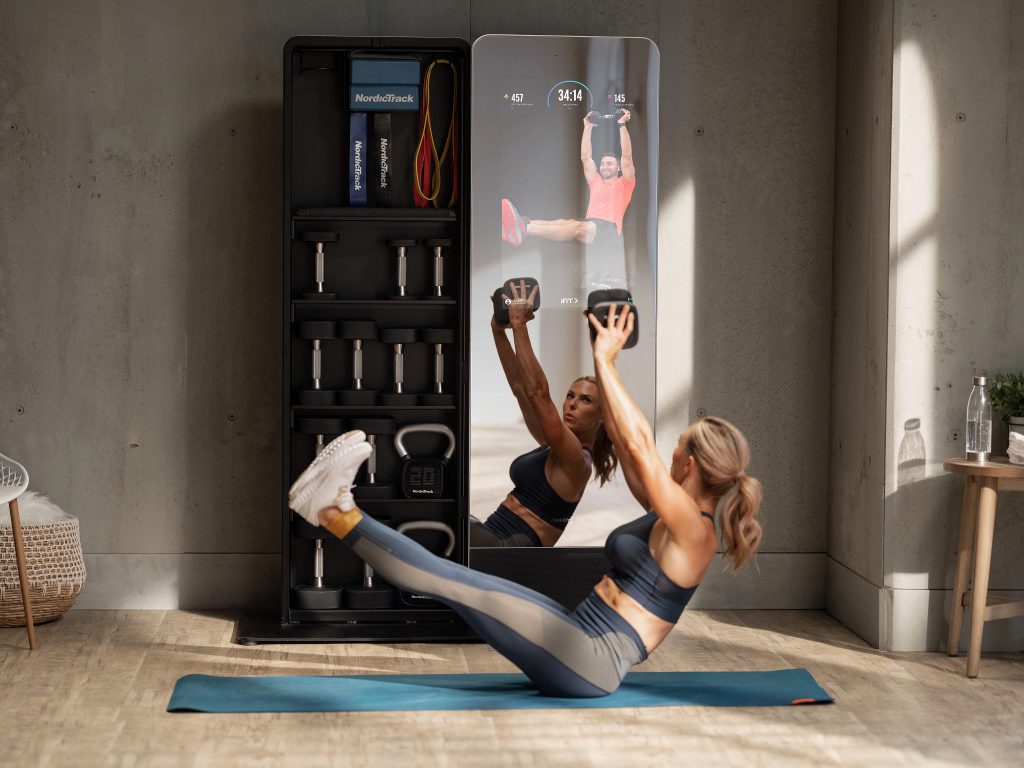 (Logan, UT) - NordicTrack powered by iFit shatters industry benchmarks of at-home fitness mirrors with the launch of VAULT, a world-class personal home gym featuring an all-in-one unit with a full-length mirror, immersive HD touchscreen, and suite of premium dumbbells, kettlebells, and other fitness accessories.
NordicTrack VAULT:


Features a full-length, 60 x 22-inch mirror and 32-inch HD touchscreen display for immediate visual feedback, allowing you to match the form of the iFit trainer for a better workout 

Ships with premium fitness accessories, including six pairs of NordicTrack knurled-handled, rubber-coated dumbbells, which pack away beautifully into VAULT's hidden vertical storage cabinet

Stands vertically and stable without wall mounting, within a compact footprint

Syncs with Bluetooth audio

Includes iFit workouts for weight training, high-intensity interval training (HIIT), sculpt & tone, stretching and mobility, full-body and muscle-specific strength workouts, Pilates, yoga, mindfulness and more

Includes 1-year iFit family membership, valued at $468 for up to five adult profiles

The elegantly designed, carbon steel VAULT features a 32-inch HD touchscreen covered by a sweeping, rotating mirror, allowing a user to work out virtually anywhere in their home while feeling as though their iFit trainer is right there with them.
The first truly comprehensive mirrored fitness studio, VAULT unlocks traditional strength training at home with a suite of premium fitness gear, including six pairs of dumbbells (5 lb, 10 lb, 15 lb, 20 lb, 25 lb, 30 lb), two kettlebells (20 lb, 30 lb), three loop resistance bands and three superbands. All equipment, including two yoga blocks and an exercise mat, packs away conveniently into VAULT's stealthy storage hold—a reimagined vertical dumbbell rack—concealed behind its sleek mirror.
"In this growing category, NordicTrack sets the new industry gold standard with this innovative yet practical design" said Colleen Logan, VP, Marketing of NordicTrack parent company ICON Health & Fitness. "VAULT launches with iFit connected fitness content, a comprehensive suite of strength fitness equipment, and proudly carries NordicTrack's legacy as the global leader in game-changing at-home fitness."
Fully integrated with iFit, the leader in interactive connected fitness technology, VAULT is equipped with a growing library of on-demand iFit Studio Workouts led by the world's top trainers. iFit Trainers offer users versatility across cardio, strength training and recovery workouts, providing both visual and audio cues on form and technique, facilitated by the oversized mirror.
The VAULT Complete is sharply priced at $2,999, or $1,999 for a standalone version excluding weights and other workout accessories. Pre-order now for January shipping exclusively at Nordictrack.com. Both VAULT models include a one-year iFit family membership, which supports up to five adult users, valued at $468.
About NordicTrack and iFit

iFit, the patented connected fitness technology that powers NordicTrack equipment, pioneered interactive, connected fitness and was issued its first of many patents in 1999. Founded with the belief that the majority of consumers would benefit from an interactive, personal training experience at home, iFit's trainer-led, streaming workouts are now trusted by millions of consumers around the globe.
iFit offers workout options for every fitness level and interest. Try everything, from bodyweight training and yoga to connected fitness workouts on NordicTrack home equipment. Patented interactive technology allows iFit Trainers to create highly personalized workouts for iFit members and automatically adjusts the user's incline, decline, speed and resistance. iFit interactive workouts are available on NordicTrack treadmills, stationary bikes, ellipticals, rowers, strength machines and the iFit app.
ICON Health & Fitness is a global health and fitness leader and owner of iFit, NordicTrack, ProForm, Freemotion and other fitness brands. Based in Logan, Utah, the 43-year old company has a multi-decade heritage of innovation, quality and profitability. ICON and iFit currently hold more than 330 technology patents, with 80 pending, and its products are present in 116 countries. iFit workouts are streamed in English, Spanish, French and Mandarin Chinese, with more languages planned for 2021.