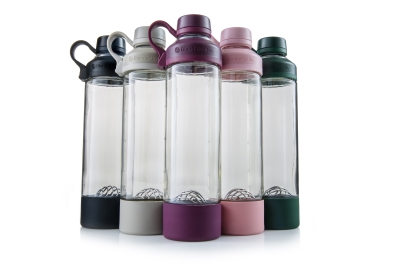 Nourish Body, Mind, & Soul: Introducing Mantra™ from BlenderBottle
Lehi, Utah (November 2018) – BlenderBottle, the brand that revolutionized the portable protein mixer market, introduces their latest innovation in customer-focused engineering and design: the BlenderBottle® Mantra™ glass protein shaker. The strikingly modern bottle debuts today at BlenderBottle.com.
The BlenderBottle Mantra shaker was inspired by the calming, clarity-inspiring experience of drinking directly from glass. "We've found that a number of our customers strongly prefer drinking from glass. But most glass bottles on the market utilize plastic or other materials in the drinking spout. We sought to solve this dilemma for glass-bottle purists. Our all-new ClearSip™ spout is the result of this consumer-focused design," says Michael Sorensen, Marketing Director at BlenderBottle.
Mantra's sleek and simple aesthetic belie surprisingly sophisticated function. The bottle's unique, center-mounted ClearSip Spout creates a smooth, all-glass drinking surface. A second, wider opening allows for thorough cleaning of the all-glass bottle; plus it easily accommodates supplement scoops or ice. The glass bottle is nestled between a silicone cap and boot for enhanced grip.
Whether you're sipping water during yoga practice or mixing a recovery shake after a round of heavy reps, the Mantra protein shaker provides plenty of additional premium features. The secure, twist-on cap and screw-on lid create a leak-proof seal—backed by BlenderBottle's Leak Proof Guarantee. The detachable carry loop allows you to easily secure your keyring to the bottle, or latch the bottle to your gym bag. The patented mixing system uses the BlenderBall® wire whisk—found only in BlenderBottle brand shakers—to mix protein and nutrition shakes with ease. The Mantra is stain and odor resistant, made of BPA- and phthalate-free materials, and top-rack dishwasher safe.
The BlenderBottle Mantra protein shaker is offered in clear glass with five accent color options: Black, Plum, Spruce, Rose, and Pebble. The 20-ounce capacity bottle retails for $19.99 and is available now at blenderbottle.com.
About BlenderBottle
Founded in 2000, the BlenderBottle Company is a privately held manufacturer of premium and innovative products that help simplify everyday life. The company's patented and best-selling products have been hailed by Good Morning America, Reader's Digest, Self, the Today Show, Men's Fitness, and others as some of the "hottest new products" on the market.
BlenderBottle® products are available in over 90,000 retail locations worldwide, and in over 70,000 retail locations in the U.S. alone, including GNC, Vitamin Shoppe, Vitamin World, Bed Bath & Beyond, Walmart, Target, Rite Aid, Whole Foods, Amazon.com, and online at blenderbottle.com. The BlenderBottle Company is located in Lehi, Utah and markets and sells its products to retailers and resellers worldwide. All BlenderBottle® products are backed by a Customer Satisfaction Guarantee. For additional information, visit blenderbottle.com.